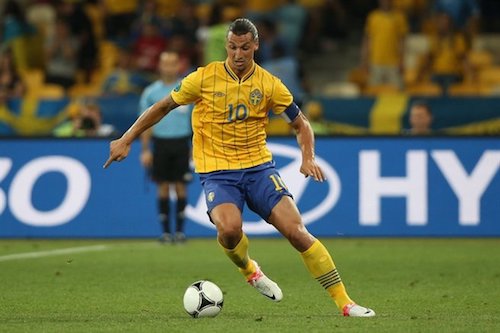 He's a top class soccer player, but he's almost as famous for what comes out of his mouth as what he does on the pitch. These are our favorite Zlatan quotes.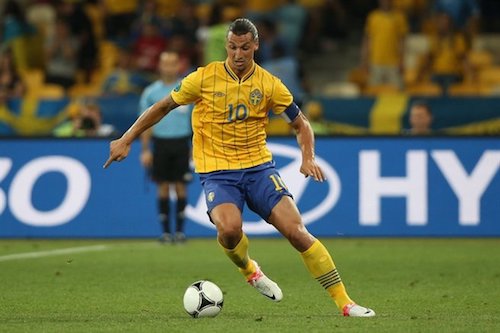 If there's a footballer who can best Ronaldo in their tenacity and arrogance, then it has to be Swedish footballer Zlatan Ibrahimovic, the former Manchester United striker who joined the LA Galaxy in March 2018. He is well-known for his interesting and occasionally offensive quotes, both on and off the pitch. Below, we've compiled 10 of the best quotes to have come from this comedy genius.
Some of the links below are affiliate links, meaning, at no additional cost to you, we may make a commission if you click through and make a purchase.
Number 10
Some are verbal disagreements, whereas others get more physical. It's not the first time that Zlatan has had a falling out with teammates and wouldn't be the last. Still, not every argument ends with scissors being flung at your head.
"Mido picked up a pair of scissors and flung them at me. It was completely nuts. The scissors whizzed past my head, straight into the concrete wall and made a crack in it. I went over and gave him a smack, but 10 minutes later we left with our arms around each other. Much later I discovered our team manager had kept those scissors as a souvenir, to show his kids."
Number 9
Reports are known for not holding back on their questions, so it was unsurprising when one Italian reporter challenged the football striker with a question about his sexuality. Well, Ibrahimovic didn't hold back on his response, either.
"Come to my house and you'll see if I'm gay. Bring your sister."
Number 8
Anyone who knows Ibrahimovic knows that he loves his cars and has often been quoted as talking about his Ferrari. God help anyone who tries to dictate the car that he can drive, as this Ibra quote shows when he's speaking about Barcelona.
"At Barca, players were banned from driving their sports cars to training. I thought this was ridiculous – it was no one's business what car I drive – so in April, before a match with Almeria, I drove my Ferrari Enzo to work. It caused a scene."
Number 7
Up until 2012, Zlatan hadn't failed to take a league title every single year. So, when he was defeated in attempting to win Series A as part of Milan, it was unsurprising to see his response. In all fairness, it was a fairly accurate comment.
"I'm not used to winning nothing – it's the first time it's happened to me. I'm disappointed. It's a failure."
Number 6
Footballers are no strangers to getting themselves into precarious positions, especially when the media are around. This quote follows on from defusing a scenario in which Zlatan and his friends had posed as police officers and stopped a sex worker going about their duties. Of course, he stopped and flashed a grin for the cameras.
'It was a joke,' I explained. 'The cops laughed, but a photographer appeared and snapped a photo. Idiot that I was, I put on a huge grin. You can imagine what happened next.'
Number 5
Despite falling from grace after a defeat at the hands of Portugal and missing out on the opportunity to captain Sweden at a World Cup stage, Zlatan remained defiant that the World Cup would not be worth watching without his presence.
"One thing is for sure, a World Cup without me is nothing to watch so it is not worthwhile to wait for the World Cup."
Number 4
Despite rivalry between teams, Zlatan was still able to see the funny side to the competition. Ibrahimovic delivered this quote after leaving Liverpool defender Stephane Henchoz scratching his head with a particularly good play.
"First, I went left, he did too. Then I went right, and he did too. Then I went left again, and he went to buy a hot dog."
Number 3
Many sports reporters love interviewing Zlatan, purely for quotes like these that make headline news. That said, a reporter who asked why there were scratches on Ibrahimovic's face got more than he bargained for when he heard this Ibrahimovic quote.
"You'll have to ask your wife that one."
Number 2
After being bought by French juggernauts Paris Saint-Germain, the question of where Zlatan would settle down was posed to him. If he can be taken for his word, then Zlatan's response clearly made out that he didn't have an aversion to lavish spending.
"We are looking for an apartment; if we do not find anything, then we will just buy a hotel."
Number 1
And finally, onto the winner of our top 10 Zlatan quotes. When having a disagreement with rivals, Zlatan doesn't mince words. However, this savage line comes straight from a disagreement with his then-captain, Rafael van der Vaart, who blamed Zlatan for an injury to his ankle sustained in a challenge between the pair.
"I didn't injure you on purpose, and you know that. If you accuse me again I'll break both your legs, and that time it will be on purpose."
---
Well those are our 10 favorite Zlatan Ibrahimovic quotes. Zlatan's never one to mince his words our shy away from the spotlight, so I'm sure we'll be adding to this list pretty soon! Make sure to follow us on Facebook to stay notified of all the latest posts here at SkillSpeedPower.com.
The are exciting times here as we launch the new site. Make sure you check back soon as we've got many more posts like these as well as equipment guides coming soon.
Ever heard of Buakaw Banchamek? Find out some amazing facts about the Muay-Thai superstar in this article.
Played pickleball? We explain the rules and how the game came to be, in our big guide to the new sports craze.
Images:
Football.ua [CC BY-SA 3.0GFDL, CC BY-SA 3.0 or GFDL], via Wikimedia Commons
By https://www.flickr.com/people/gowestphoto/ [CC BY 2.0], via Wikimedia Commons
By Ardfern [CC BY-SA 4.0 or GFDL], from Wikimedia Commons