When it comes to the best soccer cleats available you want to look for what will give you the best traction for any condition you played upon. Cleats are what protrudes from the bottom of your shoe and they provide the traction you need. We will look at four of the best cheap soccer cleats on the market today, and give you a full break down, and review of each.
We will take into consideration what materials they contain, the styles available, as well as the type of traction they offer for certain surfaces. To positively affect your play, and stability on the field, it takes the right style and shape of the cleat.
Some of the links below are affiliate links, meaning, at no additional cost to you, we may make a commission if you click through and make a purchase.
Buyer's Guide
Soccer footwear is dependent upon many factors: your skill level, what kind of field you are playing on, and, of course, the price you are willing to pay. Many leagues will have a requirement that you have the proper soccer shoe wear in order to be allowed to play, so it can be very handy to have a good idea of what you are looking for, and we will take a look at what you need to know, right here.
Types of cleats and optional footwear
Molded or Firm Ground Cleats – Contain a basic shoe design and are equipped with either hard plastic or non-removable rubber bottom, which is what helps to provide your traction, as well as control. This style is perfect for beginner to intermediate players, plus they are made to be used in any weather situation and on just about any type of field. They are the usual requirement for most youth soccer programs to concur with safety rules.
Replaceable or Soft Ground Cleats – These best budget soccer cleats have studs attached to the bottoms with screws, so your spikes can be taken off and put back on with ease, and simply replaceable. These good cheap soccer cleats have different lengths that are most often are made from hard plastic or just plastic containing metal tips.
You can alter the kind and length of stud based on the weather, or the conditions of the field you are playing on, any given day. These are ideal cheap soccer cleats that experienced players who know how to tailor the cleats to the situation, as they are perfectly suitable to be used on soft grass, wet and soggy, or well-maintained fields.
Hard or Multi-Ground Cleats – This kind of cheap cleat is specially concocted for hard or artificial surfaces, such as turf, or hard, sun-drenched fields. In order to get a good grip on such land, these type of best-budget soccer cleats is made with lots of short studs evenly placed across the outsole. They are even a great option on a frozen field, if necessary. Who doesn't always need a backup pair anyway?
Turf Shoes – Turf shoes have different raised patterns covering the bottom of these best men and women's soccer cleats, which are most useful for hard surfaces outdoors, and artificial turf. They are basically good for training, and as a backup pair for the game.
Indoor Shoes – These are cheap cleats that look much like low-cut and lightweight sneakers. They are perfectly made for indoor soccer at a gym or facility for recreation. Their bottoms are made of a rubbery-type, flat bottom that offers excellent traction for those cuts on the hard floors. Most indoor facilities for soccer will require these in order to not to ruin their turf or floors.
Materials
The best soccer cleats will be designed with one of two materials: synthetic or leather. Which one you select depends upon what your skill level is and how seriously you take the sport.
Leather – Leather can make up some of the best budget soccer cleats and will give you a great feel and will fit like a glove, however, they can be a bit more than costly than other types of material.
Yet, these are full-grain shoes made from durable and strong leather, and include some variations like Kangaroo leather, which can be much more flexible, and will truly give you an amazing sense of comfort.
The only downfall is that you are trading soft leather which will give you a great feel of the ball when you kick it but are a bit less durable than other materials.
Three most used leather uppers:
Kangaroo: This leather is so soft it will easily stretch and mold to anyone's foot. It can be, however, the priciest leather resulting in a more expensive shoe. It is made of high quality and is light. These would be more comfortable than any other pair of shoes you own, but the sacrifice in owning them comes when you need to purchase another pair sooner than usual due to durability issues.
Full-Grain/Calfskin: Calfskin doesn't feel as supple on the foot as kangaroo leather however, it offers much more durability. It can also be slightly heavier than a shoe made from kangaroo and is not as stretchable. They can be a tough pair of good cheap soccer cleats and are most often mid-priced.
Pittards Leather: Only Puma uses Pittards leather. This type of leather has undergone a treatment process that is patented by Puma and is a calfskin leather. The treatment process gives the cleats quality water-resistance, and an ability to dry quicker.
They will retain their softness but do stretch less than kangaroos. Pittards leather cleats will drop the price range between kangaroo and calfskin prices.
Synthetic: Synthetic made cheap soccer shoes are the ideal cleat for mid-level and entry soccer players. For the most part, they are cheaper than leather cleats. They will not give you as nice of a feel and will not give you the life a well-treated leather soccer cleat will.
Synthetic cleats will usually have water treatment applied, so they can do better in playing conditions that are poor. If you do keep good care of your best soccer cleats, they will be easier to maintain than a leather pair.
Premium Synthetic: Thanks to the advancement of modern technologies, the creation of premium synthetics is being used to make high-level best soccer cleats under $100. They contain micro-fibers that are water-repellent and offer a very light carry on the foot.
Size Determination
Tips for choosing cheap cleats that fit – Regular shoes and Soccer shoes are sized the same, but cheap soccer cleats will be found to have a narrower upper design than a typical sneaker would, and that allows you to control the ball better while enjoying a better feel.
Although your high-quality best cheap soccer cleats will stretch when worn, they will also mold right to the shape of your own foot and offer a very snug fit when you first obtain them.
Reviews
Adidas Men's Adizero 8.0 Football Shoe    
*** Our Top Pick ***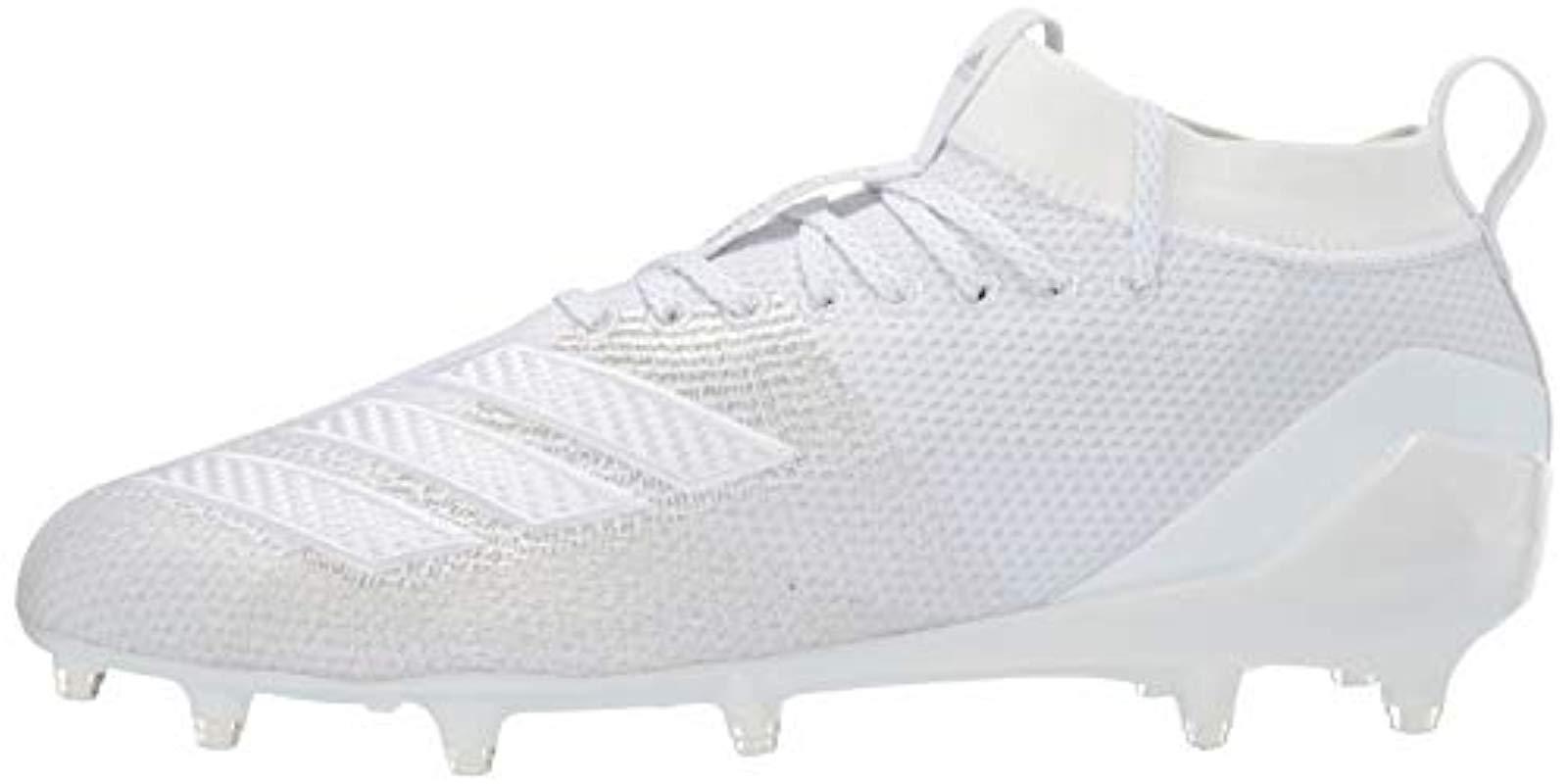 The history of Adidas goes as far back as pre-WWII with its founder Adolf Dassler. Adolf created the name for his shoe company by putting together his nickname around town (Adi), with the of his last name – Das.
Jesse Owens was the first to wear a pair of Adidas in an official setting at the Olympics, and soon Adolf designed his very set of cleats called the Samba with rubber soles that had many studs molded to the bottom.
Fast-forward to 1994, and the rivalry between Nike and Adidas began with the production of the Predator cleats, and Nike's Tiempo cleats. However, we are taking a peek at the Adidas Men's Adizero 8.0 Football shoe. They can be either imported or made in the USA. They offer a nice comfort with a reduced weight factor due to their knitted upper.
The forefoot comes with a reinforced lockdown made of Sprintlock embroidery. They contain a TPU overlay offering good durability and long-lasting protection. You'll get elevated cushioning from the polyurethane sock-liner.
This soccer footwear can be quite pricey though, depending on the size you need and are definitely at the highest end of the price spectrum. They weigh approximately 2.45 pounds. The patterns are very colorful, and Adidas Adizero offer a wide selection of them.
Pros
Lightweight and durable
Reinforced embroidered forefoot lockdown
Soft polyurethane sock-liner
Large choice of patterns
Cons
Price is on the highest end of the four products on the list
Bottom Line: The Adidas Men's Adizero 8.0 Football Shoe offers all sorts of unique, bright, and colorful patterns to choose from, but leans towards the high end of an average price for a cheap soccer cleat. They offer comfort, but less durability depending on your playing conditions.
[easyazon_cta align="center" identifier="B07KXGMJFG" key="wide-orange" locale="US" tag="skillspeedpower-20″]
Nike Men's Phantom VSN Academy DF MG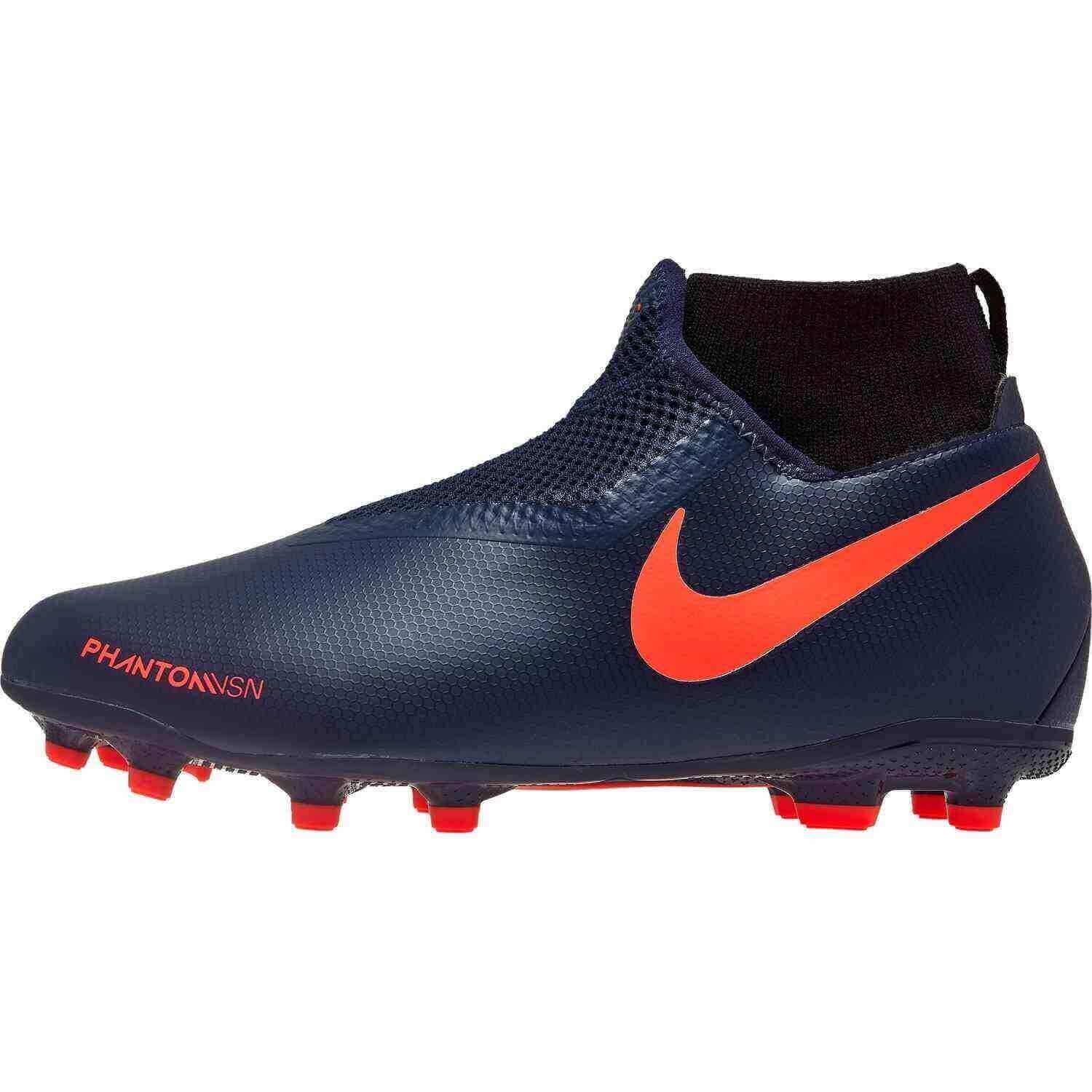 Nike was originally called Blue Ribbon Sports. They have been an industry leader in the distribution and making of soccer cleats. The first concept of soccer cleats is traced back to the mid-1500s when apparently King Henry VIII's wife requested for a pair of soccer boots made from leather to use in her recreational playtime. These first cleats didn't have the knobby soles and spikes that you find on playing fields today.
Nike's Men's Phantom VSN Academy DF MG run as the cheapest soccer cleats of each of the designs we mention here. These high-quality cleats offer a dynamic fit for multi-ground use. They are snug and have a sock-like ring around the ankle with a sleeve hugging your foot. It is textured material wrapping around your foot which offers you more precise kicks, and controlled action on the soccer field.
They are also complete with a plate that is versatile for multi-ground situations with excellent traction on both artificial and natural surfaces. They provide a low-profile cushion with a lightweight insole. They come in limited colors of University Blu, Obsidian, Bright Crimson, and Black.
Pros
Cheap soccer cleats under $100
A protective collar around the ankle
Textured comfort sleeve
Multi-versatile bottom plate
Cons
Small choice of colors
Not good for all-weather situations
Bottom Line: Nike's Men's Phantom VSN academies are excellent lightweight and multi-purpose soccer cleats that provide stability and comfort allowing for great control and precision kicking all for under $100.
[easyazon_cta align="center" identifier="B07PGLFZ1L" key="wide-orange" locale="US" tag="skillspeedpower-20″]
Adidas Men's Predator 19.3 Firm Ground Soccer Shoe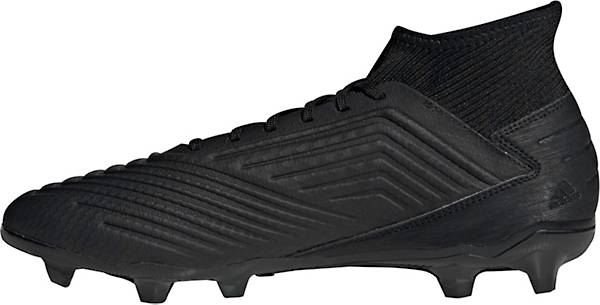 The Adidas Predator is probably the most iconic soccer cleat of all time, basking in 20 years of rich history, and multiple design options. It was first introduced in 1994 and was quickly the cleat of choice for any soccer player who wanted to break the mold.
The Adidas Predator Rapiers became the first cheap soccer cleat to come in multiple colors. Eventually, moving onto a plethora of different hues. The Predator Touch was really original when it came to the market with Traxion studs. They were rectangular, the first pair of cleats to have studs that weren't around. Who can forget the Predator Accelerators that came out right at the same time as the FIFA cup in 1998? They featured re-engineered Traxion outsoles, vamps on the forefoot that were sewn in and asymmetrical lacing. It is still considered one of the best cheap cleats Adidas has made to date.
There's not a whole lot we can say about Adidas Men's Predator 19.3 Firm Ground Soccer Shoe, accept that they're stunning in 7 different colors, fit like a sock with a mixture of textiles and synthetics, and are an imported item. The Prime mesh upper offers a very comfortable fit around your foot, so it moves right with your instincts when you've got the ball and running at top speed.
Pros
Lace closure
Synthetic sole
Anatomically-designed for a comfortable heel
FG outsole allowing max traction for firm ground
Hybrid studs
Snug feel
Cons
Priced mid to high
No patterned colors
Bottom Line: The Adidas Men's Predator 19.3 Firm Ground Soccer Shoe is more than a cleat. They speak loudly with a supportive upper, exchangeable hybrid studs, and a fit that feels like you're wearing your socks on the field. All topped off with some embossing on the grips of the forefoot for added control in shooting and passing.
[easyazon_cta align="center" identifier="B07D9FFRL6″ key="wide-orange" locale="US" tag="skillspeedpower-20″]
Adidas Men's Nemeziz 18.3 Firm Ground Soccer Shoe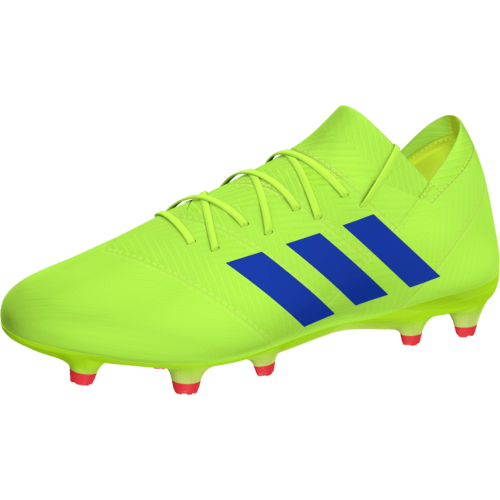 Players have a lot of good cheap soccer cleats to choose from, and the difficult can be difficult. With brand new concepts and developments in soccer cleats, modern times are seeing a revolution in innovative designs using new technology. Professional Players have deemed the Nemeziz brand as a true game-changer in the field of performance engineering for soccer.
A Nemeziz soccer cleat may look very different than any cleat you have ever seen before and it is made with a bandage construction that is unique and designed for the closest, skin-tight fit available. Yet, your foot can flex and bend with ease when making acute directional changes on the field.
The Nemesis project took off due to the rising demand by modern soccer players for a brand-new design allowing for game-changing movement. Following years of research and tests using over 200 players over 2 years, the "perfect" cleat was released. Not only that, but Adidas eliminated shoelaces with the use of 360-degree Torsion Tape in their best model. Therefore, a player may notice that although they are moving one way, the support stays there in the opposite direction helping to avoid sprains and breaks.
Pros
Imported cleats
Synthetic materials
Technologically engineered bandage for easy mobility and strong support
Free agility to change direction on the grass and accelerate quickly with a stud configuration
Synthetic sole
Cons
Priced above the median price, and up to the higher threshold
Only 7 solid color choices
Does not contain 360-degree Torsion Tape
Bottom Line: When it comes to the Adidas Nemiziz line there are certainly many choices in sizes and different products, but the Adidas Men's Nemeziz 18.3 Firm Ground Soccer Shoe is one of the more affordable and attractive shoes, making it hugely popular with pro soccer players, just don't be too disappointed with your color design choices
[easyazon_cta align="center" identifier="B07D9F1DGP" key="wide-orange" locale="US" tag="skillspeedpower-20″]
​
Recommended Next: Read our recent post on beginner's guide to soccer!
Conclusion
We took a look at four of the best quality cheap soccer cleats on the market from shoe giants Adidas, and Nike. We discovered a little history of how Adidas and Nike got started and when they entered the realm of soccer cleat productions.
We learned about different types of soccer cleats such as firm ground, soft ground, multi-ground, turf, and indoor budget soccer cleats. We looked closely at the different but best materials that make up the part of the shoes that allow for movement, including kangaroo leather, full-grain or calfskin, Pittards leather, synthetic and premium synthetic.
We reviewed the differences, and the pros and cons of the Adidas Men's Adizero 8.0 Football Shoe, the Nike Men's Phantom VSN Academy DF MG, the Adidas Men's Predator 19.3 Firm Ground Soccer Shoe Adidas, and the Men's Nemeziz 18.3 Firm Ground Soccer Shoe. There are options in colors, styles, spike type and size, comfort level, and ball agility to name a few.
However, we also discovered that you might have to give up one option for another depending upon your chosen price range. Whatever you choose to support your soccer prowess, Adidas and Nike offer a classic and strong background in the making of soccer boots, shoes, and cleats.