Intro
Soccer balls, so simple yet so elegant, it's no wonder we call it the 'beautiful game,' to think something as simple as a ball could be utilized with such awe-inspiring skill is an amazing accomplishment. Soccer balls are a point of contact, the connection between humans and the playing environment, they interact with our bodies, with the ground, with the game and with themselves through their bounce, touch, and flight.
Soccer balls are therefore absolutely crucial for the game, they've developed famously from the inflated pigs' bladders used in the 17th century to rock-solid leather balls which dominated the 1800s and 1900s to our current plastic and synthetic soccer balls which bring new technology to the fore.
Soccer balls don't come in many shapes or and they certainly don't come in many sizes, but they sure come in many styles and specifications which make a huge difference to how they play. A good quality ball improves your playing in many ways, your touch will be better, your shots will be more powerful and passes will be more accurate. The old saying 'a bad workman blames his tools' doesn't really apply here, if you own a poor-quality soccer ball then your game will suffer!
Here, we've compiled some soccer ball reviews to discover the top soccer ball available on the market today.
Some of the links below are affiliate links, meaning, at no additional cost to you, we may make a commission if you click through and make a purchase.
Buyer's Guide
Soccer balls used to be made from inflated pig bladders, these were treated and inflated to be kicked about long before the professional game was founded and organized. Pig bladders weren't exactly round, though, and thus the quest for the perfect spherical ball began.
Pig bladders were common until the 19th century at which point the rubber bladder was created. Rubber bladders could achieve great spherical footballs which bounced well, they could also be covered in extra materials to pad them out and make them even better.
After this, the leather-covered football came about which was preferred by FIFA until the 1960s. Leather balls were unforgiving, brutal to strike and worse still if you headered one falling from a great height. Soon after, the synthetic modern ball was born. Synthetic balls combine affordability with performance, they have made the modern game more impressive, spectacular and fun than ever.
How to Choose a Soccer Ball
There are two main types of balls available, match balls and training balls. Match balls are designed for professional use, they have to comply to regulations and standards set out by FIFA and other agencies like the NFHS (National Federation of High Schools), NCAA (National Collegiate Athletic Association) and IMS (International Match Standard).
They're usually more expensive, can be harder and slicker. This ensures absolutely perfect performance on the playing field. Training balls, on the other hand, are more durable as they're designed to be used on multiple surfaces and for longer periods of time. Good soccer balls come in sizes 3 to 5, size 3 is for kids below 9, size 4 is common for kids aged 9 – 14 but size 5 is unequivocally used for adult play. Smaller sizes are available as novelties or as skills ball for practicing extreme coordinate.
Build and Materials
Soccer balls have two core parts, the outer casing, and the internal bladder. The bladder holds the air and forms the spherical form of the ball, the bladder has to be of a perfect thickness to maintain shape and needs to be able to withstand a pressure of around 7 – 11 PSI, not to mention to rigors of being kicked for 90 minutes or more!
The casing covers the outside of the ball, cushioning it, making it more bouncy and vastly improving durability. A top-spec high-quality soccer ball needs both a great bladder or lining and a great casing, you can't have one without the other!
Paneling
Panels cover the outside of a ball, it's easier to use panels than an all-over covering as they best maintain the integrity of the ball. Traditional balls had 12 or fewer panels but these have steadily gone up over time to 26 and 32 panel balls, though all panel quantities are still popular.
Panels are made from synthetic materials including PVC and PU and are quilted with special foam. PU is a superior plastic whereas PVC is thinner, PU has greater response, grip on the ground and is generally more responsive and easier to strike with power.
Finally, synthetic leather is designed to be ultra-responsive and is often used for match balls as they confer increased power through their greater weight, though this is becoming less common as PU balls take over.
Bladders 
As far as bladders go, they are no longer rubber but instead made from latex or butyl. Latex is stretchier and more responsive to pumping whereas butyl retains pressure better and requires less pumping.
Bladders usually have multiple layers to maintain all-over strength and integrity. Latex is generally the material of choice for high-spec balls given its superior ping, zip and bounce responsiveness. Butyl is better for training balls as it generally retains pressure for longer meaning less pumping. At the end of the day, the difference is probably quite slim in practice but some swear by one or the other, it could be best to try both and see if you feel one is best suited to your style than the other.
Types of Footballs
All-weather and All-surface balls – All-weather all-surface training balls are designed to be used on all surfaces in all weathers including extreme wet, heat, snow, whatever you like! They can also be used on grass or dirt, or even concrete, though they will undoubtedly wear quicker on harder and rougher surfaces.
Overall, these types of balls are designed for fun and training sessions. Training balls are designed to be inexpensive and strong, they won't be extremely responsive or sensitive and may not hold pressure that well at match pressure levels but they're ultimately great all-rounders.
Match Balls – We've touched on match balls already, they're zippier and firmer with added weight and latex bladders. They're pingy and fly off a soccer boot with speed and precision, they can be hard to control for those who are less experienced, transitioning from a training ball to a match ball can be tricky!
They may not be so durable, they're exclusively designed for pitches and not for other surfaces. They pretty much always have 32 panels as FIFA demands for regulated match balls. These are also the most expensive variety of soccer balls.
Indoor and Futsal Balls – Indoor surfaces are solid and therefore you need a ball with less bounce to make sure it doesn't just bounce aggressively all over the place. They may also have fabric surfaces to improve grip on shiny surfaces. Futsal balls are similar, they're only size 4 but with the weight of a size 5 ball. They also have fabric coverings for grip.
Recommended Article: Check out our beginner's guide to soccer next!
Finding the Perfect Soccer Ball For You
Soccer balls respond surprisingly differently to each other, some have built a reputation for extreme power, swerve, extra weight or bounciness. Even World Cup balls are different each time, some have been known to provide awesome swerve whereas others have been notoriously straight and true.
Playing with lots of different balls is part of the game, unlike other sports that use balls with limited variability, soccer balls have high variability. You have to get used to the different balls you might encounter on the training ground or pitch. In experimenting, you might also find the ball which plays on your strengths, once you find it you'll be trying to use it as much as you can, insisting on using it at games and training sessions!
Reviews
SELECT Royale Soccer Ball 2018/2019    
*** Our Top Pick ***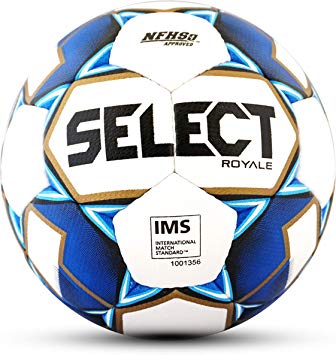 At first, this might seem like a rather left-field choice for the best overall soccer ball. It looks old-school and doesn't come with modern crazy-shaped paneling but don't let looks deceive you, this ball is absolutely top quality, it's been manufactured right out of the top drawer and deserves its 'royale' title fully. Select has been around for a long time and whilst they're not as huge as Nike and Adidas, etc, they have a tremendous reputation for manufacturing soccer balls including their famous Numero 10 ball. The Royale is yet another step up.
This is a match and training ball, it's fully accredited by the NFHS (National Federation of High Schools) and the NCAA (National Collegiate Athletic Association) and has IMS (International Match Standard) accreditation too. This full house of accreditation shows how serious this ball is, it's perfect for all types of play at every level.
As said, this is a match and training ball and it's created out of PU plastic material which is durable enough for repeated use but professional enough for use at the highest level. It has 32 panels, as expected for a match ball, and maintains awesome power, flight, and precision over many surfaces. As such, it has a 3-year warranty which is pretty awesome.
Pros
Accredited by multiple establishments
Match quality, training toughness and durability
Awesome playing characteristics
Cons
  Bottom Line: As the best ball overall, the Select Royale is a tremendous high-spec soccer ball with awesome qualities. It covers all the bases and more, it's accredited as match standard and with a 3-year warranty, Select are clearly very confident about its performance and longevity.
SELECT Numero 10 Soccer Ball 2018/2019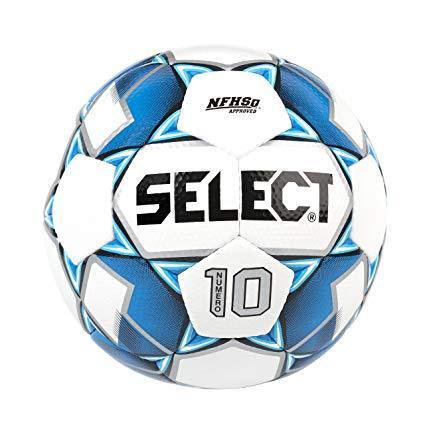 The Select Numero 10 is a very well known match and training ball that has maintained its awesome status for a very long time indeed. Used worldwide, this ball combines the best of old-school styling and tried-and-tested manufacture with modern materials and some modern high-tech additions.
It's manufactured from PU plastic with neoprene cushioning and an excellent latex bladder. It has a spectacularly well-controlled bounce, awesome responsiveness and can be struck with some serious power whilst maintaining stability.
Like the Royale, this ball is approved by the NFHS (National Federation of High Schools) and NCAA (National Collegiate Athletic Association) and has been accredited as IMS (International Match Standard). As you'd expect then, it's a 32-panel ball with hand-stitched panels that optimize aerodynamics for professional responsiveness.
This Select ball has maintained top soccer ball status for so long, it's impossible to leave it out of the list. A real workhorse at a pretty reasonable price for a top-flight ball.
Pros
Professionally accredited match ball
Excellent playing feel and responsiveness
Tried and tested design
Cons
Very difficult to find any!
  Bottom Line: Select is well known for their top-quality balls. This represents a slight step down from the Royale but it's still a brilliant soccer ball that meets top-spec demands. An awesome high-spec ball at a very reasonable price.
Adidas World Cup Top Glider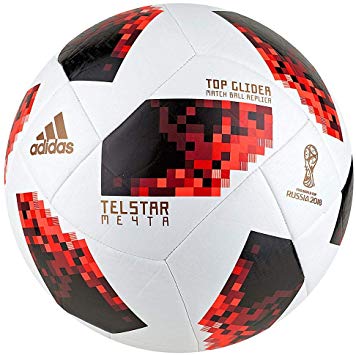 Adidas weighing in here with a top-notch match ball replica, an official FIFA-licensed ball from the Russia 2018 world cup where France won for the 2nd time. Like any match ball replica, this ball has serious pedigree and it's a delight to look at with that FIFA logo printed on the side. This football is based on Adidas' coveted Top Glider design which gives it well-known tremendous responsiveness, zip in the air and precision and grip on the ground.
When it comes to match ball replicas, the lines between match and training quality become a bit blurry. Although this is based on a top-quality match ball, it is not a match ball itself. It shares many of the specifications, though, with 32-panels and a quality PU outer casing cushioned with neoprene foam. It has a butyl liner which is more durable than latex and has better air retention but this is probably where it differs to match balls that use a more pingy latex liner.
It's difficult to see quite where quality has been cut, this ball is an excellent price, it has to rate as one of the most awesome soccer balls available for the cost and it sure looks great.
Pros
Match ball replica has a historical pedigree
Based on Adidas' Top Glider design
Shares many features with match balls
Cons
A training ball in match ball clothing, this ball doesn't quite live up to professional standards
  Bottom Line: This has obvious appeal as a match ball replica, it's a piece of history and a great collector's item. It also performs very well and at a pretty good price, it's as usable as it is beautiful.
Nike Premier League Pitch Soccer Ball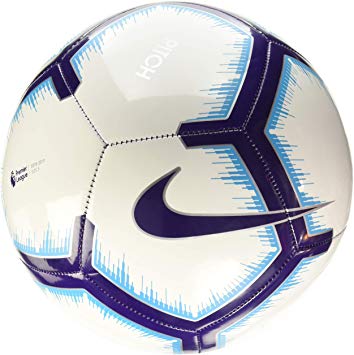 Nike is weighing in here with a classic 12-panel training ball with the famous Premier League crest printed on one of the panels. This football is designed for durability, it's the perfect all-weather training ball which is optimized for leisure play and casual matches.
The 16 panels fall short of professional standards but it's still a tried-and-tested design that comes with its own benefits owing to strength and durability as well as stability in the air.
This ball features a TPU casing which is well-padded for awesome performance, touch and power. It's well known to really fly off the foot, a great shot practice ball with a little extra weight for practicing power and accuracy at long ranges. Whilst the colors are bright enough, it would be nice to have more selection. At a good price, this is a reliable ball for general use.
Pros
Looks great with its Premier League insignia
16-panel style is old-school but tried-and-tested
Durable and multipurpose ball
Cons
Not quite up to match standards in general
  Bottom Line: A cool traditional style non-nonsense football. Strong and responsive, this ball is uncomplicated and reliable under all conditions. Ideal for Premier League enthusiasts.
Under Armour DESAFIO 395 Soccer Ball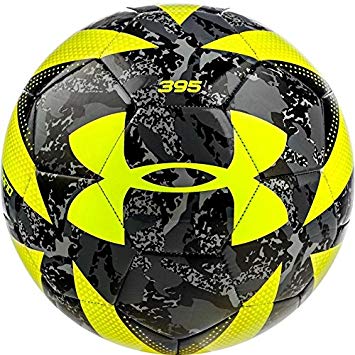 Under Armour are a top-class manufacturer of sporting goods. The DESAFIO range are very cool soccer balls with great added features. This ball packs in a superb amount of technology for its price, it's a high-quality ball for a pretty jaw-dropping price all things considered.
This ball has a PU covering which is lightly textured for better grip on challenging surfaces, this is called UA Touchskin Technology and is designed to provide extra abrasion resistance to the ball. It has a butyl bladder which adds to its durable nature. Under Armour has put their name to this ball with good effect, it's designed to be a strong and long-lasting training and leisure ball.
This ball may lack professional quality but it features awesome responsiveness and control with its 26-panel machine-stitched construction. It has a 1mm EVA foam layer which provides a lovely soft touch and extra power, it really zips off the foot when struck hard. It has a 1-year warranty and given it's NFHS approved, the qualities of this ball stack up extraordinarily well for its slim price.
Pros
Highly durable ball with Touchskin Technology
Butyl bladder is strong and retains air well long-term
Array of cool colors available
Cons
32 panels would improve this ball even more
  Bottom Line: This ball represents extraordinary value given its cool and useful features. It's super-strong and durable, a real workhorse soccer ball that will serve you well at the park or on the training pitch.
Conclusion
Soccer balls are intensively engineered and they vary massively between one-another. The choice on the market is pretty astounding, narrowing it down to five was always going to be tricky but we've done it.
The Select Royale is a top-class beast, a relatively expensive high-spec match ball which pulls all the stops out. It won't let you down, even at the highest level and even though it's pricey it'll make you treasure it and look after it, especially after a few goals.
The Select Numero 10 is cheaper but ticks most of the same boxes, it rates as another high-quality accredited match ball. It's been around for so long, has seen so much professional play, it's a real workhorse with extreme reliability.
Main brand Adidas' replicas Top Glider is a well-known soccer ball with tested qualities and it's a favorite for some that love its pingy nature and curve in the air. World Cup ball replicas are collector's items for many but they perform admirably on the training ground too.
The Nike Premier League ball features a classic shape and is really well known for durability, an ideal kick-about soccer ball. It's simple but effective, ideal for Premier League enthusiasts.
Lastly, the Under Armour DESAFIO is the dark horse, it's high-tech but cheap, a combination which Under Armour does very well.
Whichever one of these awesome soccer balls you choose, you might just find your game clicks to a whole new level. Good luck!