If you often experience pain and discomfort in your legs, we sympathize with you. We all lead extremely busy lives. Many of us work long hours, with much of that time spent on our feet. Either that or with our legs bent uncomfortably under our desks for extended periods of time. It causes a lot of stress. Stress that could easily be avoided, or, at the very least, alleviated. How?
By using what is often referred to as a leg compression machine or more commonly as an air compression leg massager. These are special pieces of equipment that can be used in the comfort of your own home and have been devised with the purpose of helping improve the circulation through your legs. They are normally equipped with a remote that can help you tweak and tailor the settings to meet your own specific needs
If this is your first-time hearing about leg circulation machines or you have looked at the products available on the market and been overwhelmed, you've come to the right place. In the following posy we will look at the three products we think are the best, as well as providing you with everything you need to know and what to look out for when choosing one.
Some of the links below are affiliate links, meaning, at no additional cost to you, we may make a commission if you click through and make a purchase.
How An Air Compression Massage Works
Before we go any further, you probably want to know how one of these leg compression massagers work. There's no point on spending hundreds of dollars on something you don't even understand the science behind it. While we're not suggesting you need to become an expert, appreciating the basics of how it works and why, may assist you in making the best decision about which to buy.
The mechanics behind these machines is relatively easy to understand, but don't let that fool you that the results you can achieve are anything short of impressive. As many are referred to as compression leg wraps, that serves as an indication as to how they fit and work.
You wrap them around your feet and legs, and they compress your legs in a similar way to wearing a tight pair of boots. Once they have been wrapped around, air starts to pump in and out of them rapidly, increasing and decreasing the pressure placed on your leg muscles dramatically.
During the inflation process, the compression pads squeeze your legs enough to apply just the right amount of pressure to push any waste stored in the cells in your feet and legs. As this occurs, fresh blood can enter the cells and nourish them with healthful nutrients and oxygen. At the same time, endorphins are produced which provides a natural form of pain relief.
They can be used for a variety of conditions such as cramping, varicose veins and even Edema. As well as helping to increase the circulation of blood, they also increase lymphatic circulation too. Many athletes use them as part of their recovery after training or events.
There are a wide variety of different compression massage equipment available on the market. While some models apply consistent levels of pressure, while others work according to natural pressure exertion. There are yet others you can adjust the pressure levels manually to suit your needs.
Given how many different types there, it is best to choose the one that meets your own personal requirements most. To help you out, we've put together a buyer's guide that will look at, among other things, what you should look out for when choosing a compression massager.
Buyer's Guide
When looking at the various compression leg massagers on the market, you could be forgiven for thinking that they are all the same. Although we've already highlighted the fact that they are not, how do you tell the difference between them? What do you need to look for when buying leg compression massagers?
In this buying guide we want to highlight the different aspects you need to consider and things you need to look for when choosing one of these practical and effective pieces of equipment.
Material
The material used in the design and manufacture of leg compression massagers is obviously very important. You really want to look for a high-quality product made to last, because that will mean you are getting a better return on your investment. That is a given. Further to that though, you need to look for materials that are breathable.
After all, the last thing you want is to suffer from uncomfortable sweating from wearing these wrap-around products against your skin for extended periods.
Size/Coverage
Up there with the materials and their quality, the size of compression massagers and the area of your skin they cover is crucial. You need to make sure the product you buy is going to cover the whole of your legs and feet to give you the quickest and most effective pain relief.
On the other side of things though, you may not one that is incredibly bulky, especially if you wanted to use it after travelling by plane or while taking other forms of transportation. It really should be a given that the compression massagers you choose fit around your legs comfortably.
Wrap Type
This could easily be included in the above section, but we decided to discuss it separately. All leg compression massage machines are different. While some are designed to cover multiple parts or all your legs, others are only designed to focus on specific areas. Like many of the things you need to consider, you need to relate to what you will use it for and pick the type of wrap that fits that best.
FDA-Approval
When buying any health-related product, you should always look out for whether it is officially approved by the FDA or not. This is a good indication that any seemingly bold claims a manufacturer makes about their leg compression machines is more than just a sales pitch and truthful. It is also a sign that the product has been tested to a high standard.
At the very least, you will want to know you are spending your hard-earned money on an item that works properly. As well as one that is safe and not likely to cause harm to you or anyone else who uses it.
Battery- or Mains-Operated
It all depends on where you intend on using it or where you think you will use it most. If you are always travelling and would like a leg compression massager to held with the stresses, aches and pains associated, you will want to consider how it's powered.
While many are tethered to a cord that connects to the mains, others are cordless and powered by a rechargeable battery. The best of both worlds would be to find one that can work using a mains cable when you are at home and one that can be charged and taken with you wherever you go, when you are out and about.
Compact and Travel-Friendly
Following nicely from the above point, you also should consider its design and whether it is compact, lightweight and portable enough. If you will be traveling with it a lot, you will want to know it packs away into your bag and doesn't make it harder than it needs to be to get around.
Number of Pressure Chambers
Pressure is obviously one of the key aspects of a compression leg massager, so you need to figure out how much pressure it is going to generate, where this pressure will be applied and how even it will be done. The general rule is that the more pressure chambers a leg compression device has, the lower the pressure will be, but that pressure will be spread out in a balanced manner.
Compare that to if you invested in a leg compression device that offered a higher pressure. The pressure is inarguably stronger, but because there are less chambers it is not spread across the device.
How Often Do You Want to Use it a Day?
This another vital aspect to consider that may help you pick out one as an ideal product from another seemingly similar device. If, for instance, you want to use your leg massager multiple times a day, you will need to be careful to invest in one that does not have any automatic shut-off timer. These timers usually prevent you from using it more than once or maybe two times.
Fastening Type
This is more to do with the comfort and convenience of the device but is still incredibly important. You will find that most air compression massagers are equipped with either zip or Velcro fastening. Although Velcro obviously beats zips when it comes to flexibility, zips are easier to accommodate larger users.
Purpose
Along with everything else, this should be central to the decision you make. The leg compression massager you choose should be designed to target and help with the problems you have.
Best Compression Leg Massagers
Best Overall – Rapid Reboot Recovery System – Compression Boots, Pump and Case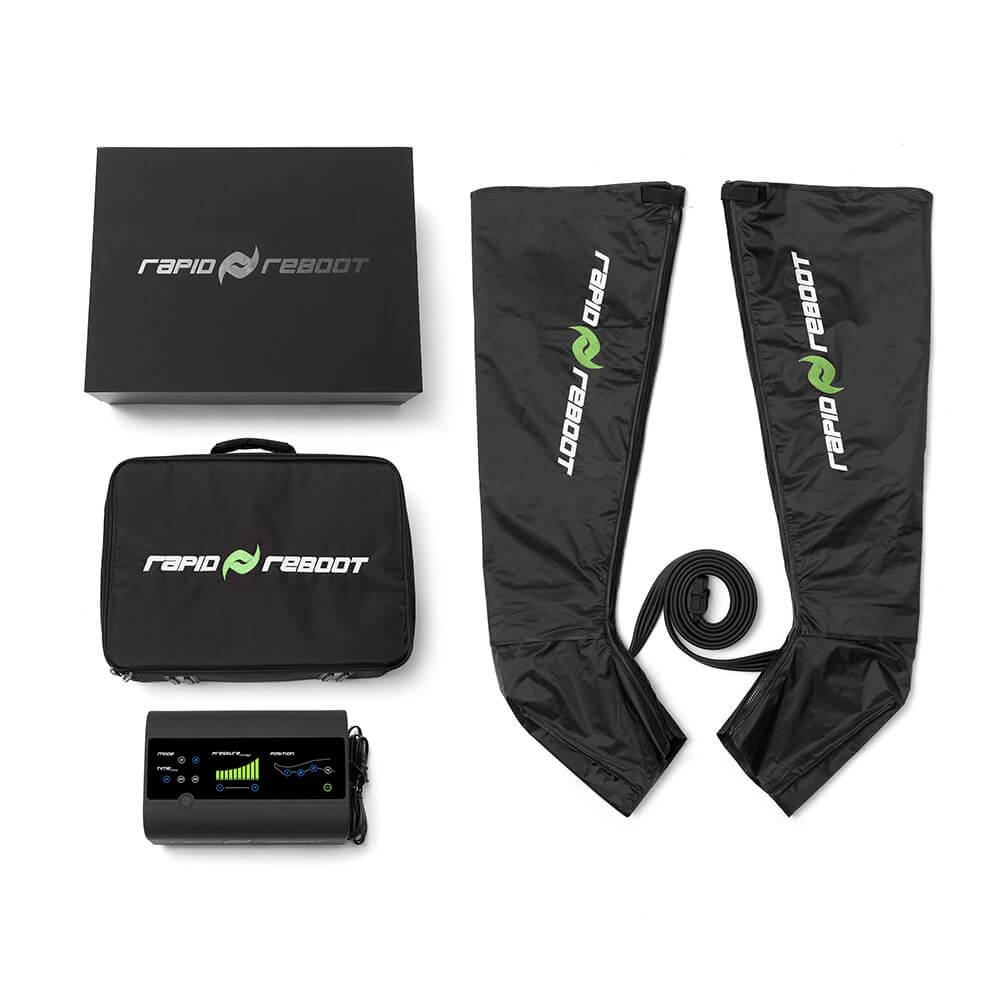 The air compression leg massagers we have chosen to highlight as our best product overall is the Rapid Reboot Recovery System. There are many great things we like about this option model which led us to choose it on top of all others. For one thing, it comes with various sized compression boots, meaning it suits various athletes of different sizes and shapes.
Adjusting the settings on this massager is easy thanks to the control pump. With it you can design a tailormade recovery tool that's best for your own specific body type, fitness level and overall health.
The idea behind the Rapid Reboot, as the name suggests, is to significantly speed up the time it takes for your body to recover from those tough workouts, events and training sessions, as well as any medical conditions you may be suffering from.
Construction and design wise, it is made from high-quality materials and comes with everything you need to look after your legs. You get the compression boots themselves (available in a wide variety of sizes), pump and a special padded case to take it wherever you go.
It's not just the size of the boots that are customizable, as you can change various settings. You can switch the time through three different settings of 10 minutes, 20 minutes and 30 minutes. There is also the option to choose from two interesting modes, intermittent massage or rapid flush. Probably the adjustable settings most reading this will be most curious about is the pressure.
There are 10 different pressure levels to choose from, so that you can have full control over every aspect of your recovery. As if that wasn't enough, you can also activate and deactivate specific pressure chambers to target areas that need to recover more than others.
Pros
Adjustable massage time, mode and pressure settings
Option to activate and deactivate chambers to diversify massage
Backed by a full 2 years guarantee
Cons
Some have found the hose attachment at the feet of the sleeves frustrating
  Bottom Line: Ultimately, this has been singled out as the best leg compression massager overall for good reason. It's quite an investment, this is true, but you are rewarded for that investment with a high quality, medical-grade compression recovery system that's as good for athletes of all kinds as it is for people who work long hours in hectic jobs.
Best Value – Cincom Air Compression Leg Wraps Massager With Portable Handheld Controller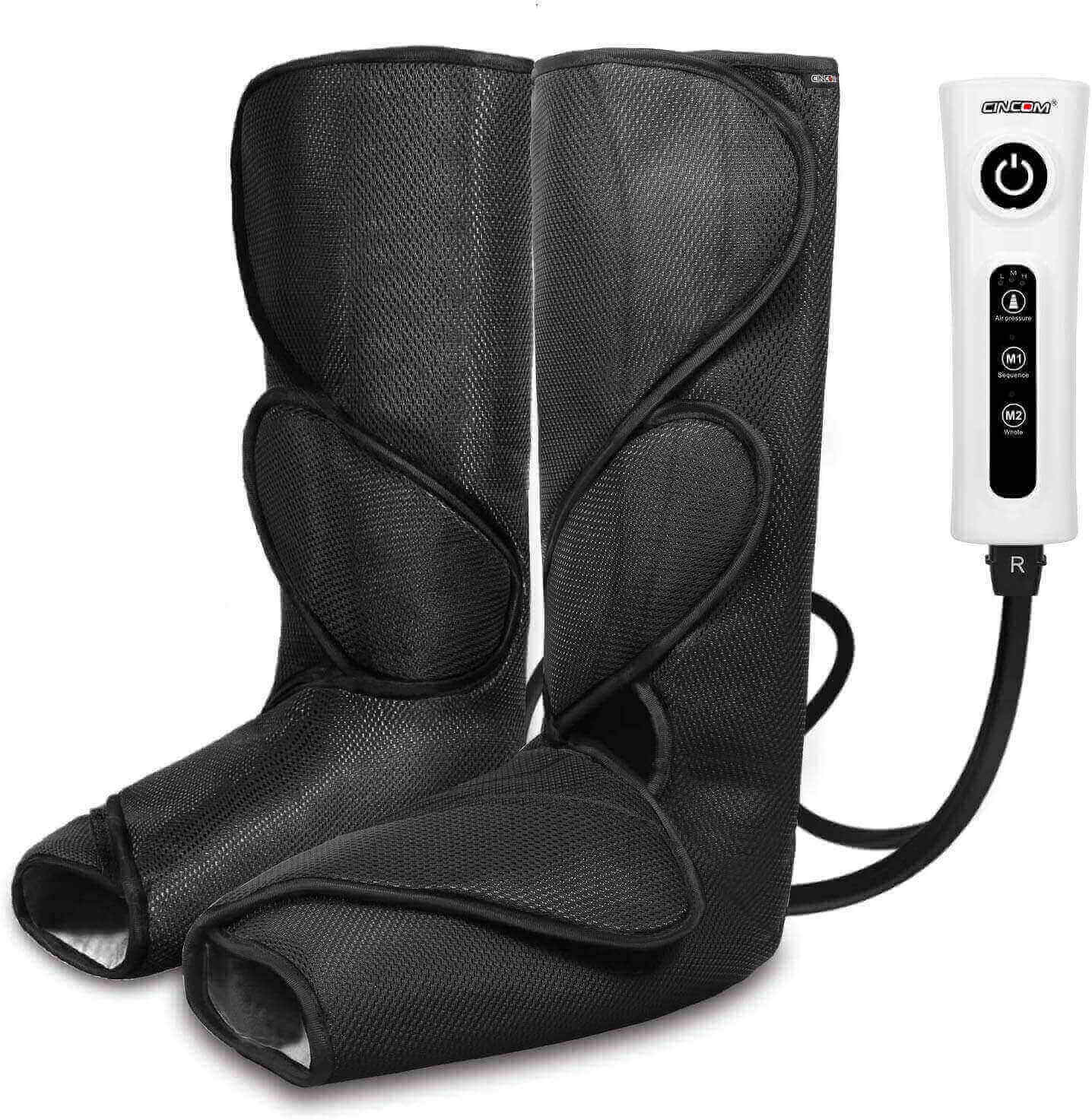 If the above item from Rapid Reboot was a very luxury, high-end item, the next from Cincom could be seen as the budget option. Don't let the price put you off though, as you get the benefit of a wide range of excellent features with this leg massager.
The compression massager from Cincom comes with two parts for each leg, and an additional two extensions that can be used for larger sizes. They fasten securely and snugly, but not too restrictively around the foot calves with Velcro. It is made from suitably high-quality materials and features a number of settings.
While there's no point in denying it, there are not quite as many settings to choose from. You don't have as comprehensive a range of control over your experience as you do with the Rapid Reboot. However, unless you are a high-ranking athlete or sportsman or woman, the range of settings the Cincom has to offer may be enough.
You have two different mods to choose from to begin with, the full mode or sequence mode. On top of that though you can alter the level of intensity of the massage you receive. It manages to replicate the actions of an actual masseuse, which is perfect at the end of a busy day, week or training session.
It's not just the functionality and customizable options it provides you with that make this a worthwhile investment. You get the benefit of a handy and intuitive remote control, so you can simply sit back and relax while you change the settings as and when you need to without moving.
The microfiber meshing used is both comfortable and breathable. So, you don't need to worry that the material sitting directly against your skin is going to get too moist, sweaty and uncomfortable  Similarly to the Rapid Reboot system, the Cincom massager kit is very compact and lightweight, so if you want to take it while you travel, it won't add more than necessary to your baggage.
Pros
Features micro plush material that's breathable and flexible
Affordably priced
2 different massage modes and 3 intensity settings
Cons
Some users had difficulty putting them on and taking them off
  Bottom Line: Sure, the Rapid Reboot model is the crème de la crème, but that may not be suitable for your budget. This really is the next best thing as far as we're concerned. It's affordably priced, compact, lightweight and offers a reasonable selection of customizable options.
Fit King Leg Air Massager with Handheld Controller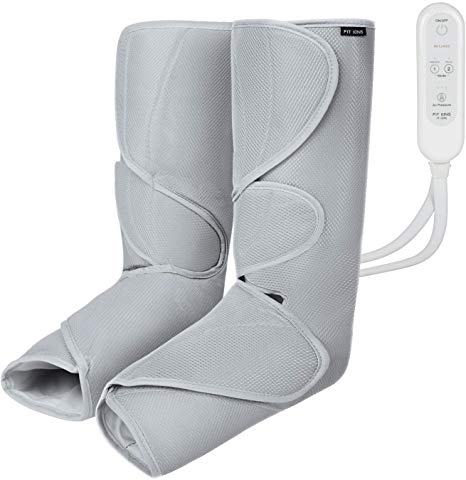 Another suitably and very affordably priced model compared to the Rapid Reboot model, the leg air massager for calves and feet from Fit King still remains one of the most popular of its kind. There was simply no way we couldn't discuss this model. Look at any similar lists and guides and you will find this is somewhere in the mix.
This is another compression leg massager that focuses mostly on your feet and calves. So, whether you are looking for relief from pain because of an ongoing health issue, you've recently injured yourself or need a reasonable recovery from a workout. Whatever you need it for, the Fit King could be the product you tool you really need.
It's made from medical-grade, high-quality materials that won't let you down or injure you while you the device. Much like the Cincom machine, you get the option for 2 different massage modes, with 10 different styles of massage incorporated into its patterns. To further customize and intensify your experience, there is a choice of 3 levels.
That may not sound like a lot, but reviewers have, for the most part, been happy with the results they've experienced from using the Fit King. Another thing this shares in common with the Cincom model is that it comes with extensions that can help larger sized legs fit into the massage wraps.
As is a standard for many of these devices, something we touched upon in the buying guide, this has an automatic shut-off time of 20 minutes. Don't worry though, as unlike others on the market, it doesn't prevent you from switching it on again for another 20 minutes. This feature is perfect for those days when you fall asleep while receiving the massage and for the elderly.
Pros
Portable and compact
Adjustable extensions for feet of all shapes and sizes
20-minute timed function and auto shut-off
Cons
Many are not convinced it is particularly powerful
  Bottom Line: Sitting at a similar price point to the Cincom, there is not a lot in it between the two. We'd find it hard to pick out one from the other. If you decided on either, we think you'd be happy and satisfied.
​
Recommended Reading: Our newest post on beginner's guide to soccer is up and can be read here!
Conclusion
There we go folks; we've looked at the interesting and satisfying world of the best air compression leg massagers. The choice you make that's best for you will really depend on the kind of experience you are looking to have from using it. If you are a professional or high-level amateur athlete, you may want to invest in the higher priced Rapid Reboot product.
However, if you are just a domestic customer with aches, pains. With leg muscle stress and strain caused by sitting all day in front of a computer or standing for many hours at a time, you may want to consider one of the others. Both the Fit King and the Cincom leg massagers we've discussed would be nice investments, especially considering the price gap.
If we had to pick the winners, though, as we've previously mentioned, the best value option would be the Cincom massager, thanks to its compact design, reasonably, if slightly lacking, range of adjustable settings. It is backed by a generous warranty period and made using medical-grade materials, as most of the best massagers on the market.
For the best overall, though, it has to be the Rapid Reboot. We just love that you can tell this has been fully devised with athletes and sports participants in mind. It knocks the others out of the pack, when it comes to adjustability. You can select the duration of your massage, the type of pattern it follows, the level of intensity and can even select the pressure chambers to use.
If money is not an issue, get the Rapid Reboot.