Intro
Soccer ball pumps are absolutely essential for any soccer player, whether you're heading for a kick about with friends at the park, heading to the training ground, playing five-a-side or running a club.
How many times have you realized your ball is flat when the sun is shining and you want to head out and play some soccer? And how many times have you realized you don't own a pump?! It's incredibly annoying!
And if you run a training session or a game, you'll need multiple balls, pumping them up with a substandard pump is a real hassle. It's definitely worth investing in a quality soccer ball pump. After all, they're inexpensive, durable and long-lasting.
Once you have a good one, you won't need another. We've compiled a review of the best pumps for soccer balls and other balls. Read on to discover the best ball pumps around!
Some of the links below are affiliate links, meaning, at no additional cost to you, we may make a commission if you click through and make a purchase.
Buyers Guide
So what makes a good soccer ball pump? They are pretty simple devices but they come in a range of formats and types, probably more than you may initially expect. Firstly, let's take a look at how pumps work and their main components:
Barrel – The barrel is the chamber where the air is sucked in for pumping. Air is sucked into the chamber on the upwards stroke of the pump but can also be sucked in on the downwards stroke with some two-way pumps, increasing pumping efficiency.
Hose – The hose is what the air is pushed through to the ball, longer hoses are more flexible and convenient.
Pressure Gauge – Not all pumps have pressure gauges but they're extremely useful for accurately assessing the pressure of a soccer ball or other inflatable.
What To Look for in a Soccer Ball Pump:
Portability – Portability is important for when you're traveling with other sports kit. For trips to the park or training, you don't want a huge clunky pump, a hand pump is the smallest type which is easily fit into kitbags for convenience.
Power – The more powerful the pump, the quicker the ball will inflate. It's as simple as that. Gauges come in handy here – some pumps inflate a ball far quicker than you expect and you don't want to overinflate to cause damage to the soccer ball.
Durability – Build quality matters a lot when it comes to pumps as they're operated frequently and with force. Some pumps are constructed from strong ABS plastic or metal and care is taken to ensure the longevity of seals and moving parts. Also, pumps have to function in all weather and shouldn't be vulnerable to rust or decay when left outside.
Price – Pumps vary from a few dollars for ultra-cheap models to hundreds for electric pumps.
Let's look at the main types of pump available:
The most common type of pump is most likely the humble hand pump. They're portable, easy to use and can pack serious pressure, easily enough to pump up soccer balls or other balls with ease. Hand pumps can come with a pressure gauge which is ideal when pumping balls to specific PSI pressures.
Some sports have regulations for pressure, soccer balls should generally be almost rock-hard with little give but going above this will make the ball extremely bouncy and difficult to strike. An overpumped ball may even burst, or may skim over grass too quickly, not to mention they'd be extremely painful if they happen to strike you in the face or other vulnerable areas!
Pressure gauges allow you to hit the optimum for that type of ball and are therefore recommended for any serious pumping.
Double action hand pumps are larger and more powerful, they're operated on the ground and secured by your foot as you pump the lever up and down with two hands. This means quicker and more efficient pumping and ultimately, less pumping and more playing!
Double action pumps may also come with pressure gauges and are multi-purpose in that they can be used to pump up larger inflatables if desired.
Stirrup pumps are closely matched with double action hand pumps and there aren't many differences other than that they are often even more powerful and quick to inflate. Stirrup pumps will pump a soccer ball in under a minute which is perfect for large training sessions, games or in schools or sports centers.
The most powerful pumps available are electric pumps. For soccer balls, it's unnecessary to use electric pumps unless you're pumping up an extremely large quantity of balls. Some advanced electric pumps can be set with a PSI cut off allowing you to leave the ball inflating whilst you go off to do other tasks.
Needles and Adapters
Soccer balls have been using the same type of valves for decades and invariably require needle valves for pumping. These are inserted into the ball, the valve grips the valve shaft and allows you to pump without holding the valve in manually.
Maintenance
Pumps, like any mechanical device, benefit from maintenance and TLC. Soccer ball valves also require occasional oiling, and this may be recommended for a first-time pump, though most good modern soccer balls don't require this.
The pumps themselves can also be oiled but be careful, don't use motor oils or other petroleum or solvent-based oils as these will erode the seals in the pump. Instead, opt for silicone lubricant which is widely available either in cans or in dropper bottles. Silicone won't attack the rubber seals inside a pump.
Reviews
The Best Overall – Under Armour Dual Action Ball Pump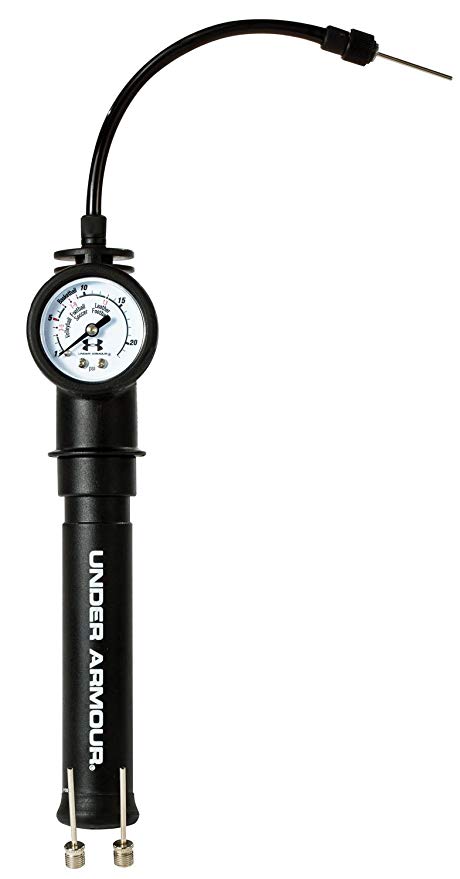 Under Armour aren't known for their tacky and poor performing items, this brand is all about strength, endurance, and power. This pump lives up to these brand tenets, it's a pocket-rocket beast, easily portable enough for carrying around with relative ease but powerful enough to make light work of any sports ball including soccer balls.
Key features include a double-action ball chamber system that pumps air both on the down and upstrokes for efficient pumping. With a bit of elbow grease, you could easily inflate a dead-flat soccer ball to a recommended 7 – 11 PSI in a minute or so. That's pretty fast for a portable pump! This pump is also extremely durable built from strong ABS plastic, features an elongated 6" hose for flexibility, comes with two needles as standard (which is amazing as one will always go missing) and perhaps its headline feature; it comes with an awesome pressure gauge.
The pressure gauge is bright, clear and easy to read but best of all, it has recommended PSIs for most types of inflatable sports balls including volleyballs, basketballs, synthetic soccer balls and leather soccer balls. This is great – it takes the effort out of testing the ball manually to see if it's too soft or firm. Lastly, it has a pressure release valve which can engage when the ball reaches a certain pressure to prevent overpumping.
In terms of price, this pump is cheap for its impressive performance, surprisingly cheap actually for Under Armour. Overall, it's easy to see why this is one of the best soccer ball pumps available on the market today.
Pros
Light and portable
The pressure gauge is excellent
Powerful dual pumping mechanism
Two needles included as standard!
Cons
If you're pumping up a large number of balls then you may get tired of the hand action
  Bottom Line: This bestseller is a beast with its strong dual-action and it's the best pump with gauge available for soccer balls at this price. It's a quality pump, the best pump overall and with good reason, and it isn't even expensive!
The Best Value – NIKE Dual Action Ball Pump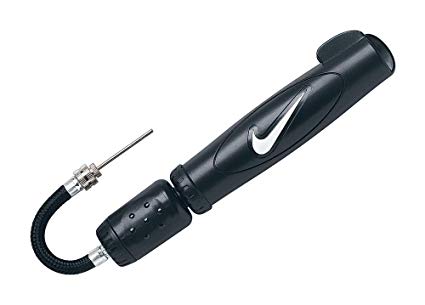 No sports review lineup is complete without Nike. Nike soccer ball pumps have been through the ages and it's no wonder that one made the cut for this review. This ball pump is small, effective, powerful and durable. It's the perfect pump for any soccer player to keep in their bag, it really is tiny and you'll forget it's there until you need it.
Firstly, this pump is simple. It will easily inflate sports balls including soccer balls but it's far from heavy-duty. If you're a PE teacher and you have to inflate 10, 20 or 30 balls then this pump isn't for you. It's more of a personal pump for inflating a ball or two. That isn't to say that you could never use it to pump up many balls – it'd just be a forearm and bicep workout!
This pump does still pack a dual-action, so like the Under Armour pump, it pumps both ways to increase pumping power and efficiency. This means you can pump up a ball in a minute or so if you put some work into it, that's pretty good by all accounts.
Another great addition is that this pump comes with an extension hose which improves its flexibility. It's also available in bright colors like fluorescent green or white which is great for when you lose it on the playing field on a gloomy day.
This pump's headline feature, though, is that it costs very little considering its relative performance. For this price, you can easily grab two and stash one at home and one in the kitbag, it's a great little pump for a slim price.
Pros
Small but powerful with two-way action
Durable build
Available in bright colors so it's harder to lose
Cons
May overheat with extended use (e.g. 5 + balls)
One needle included, consider getting a backup
  Bottom Line: This Nike soccer ball pump is small and powerful, perfect for carrying everywhere. It's hard to beat, especially for its remarkably cheap price for a main-brand item.
​​​​​Great Alternative – Valiant Ball Pump With 5 Pins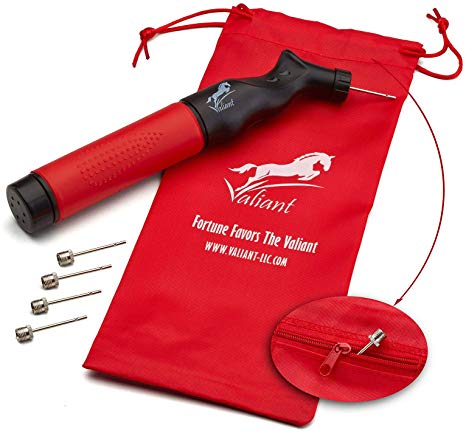 And here we have a great alternative from a non-main-brand competitor, Valiant. This cool little bright red pump features the usual two-way dual pumping action, is portable and lightweight, strong and comes with a nylon carry case. The best thing, though? It comes with not one, nor two, nor three or four needles but five! Yes, 5 needles in total. It may seem excessive but as you may already know, they will disappear easily!
This pump is built from strong plastic and it has an ergonomic grip which makes it a joy to use. It's probably on-par with most other portable hand pumps and it'll easily inflate a soccer ball in a minute or so. Again, with more ball inflations it's likely to get hard work and the shaft may even overheat. Don't pump too aggressively or you might cause damage to the seals. This pump is also cheap and the included five needles and nylon bag is pretty awesome for the price.
Overall, Valiant have built a dependable ball pump with some added extras which makes it great value for money. Also, being bright red means you're less likely to lose it in the mud on a dark training evening or rainy day. This is a great alternative to the other main-brand pumps listed here.
Pros
Effective two-way dual action
Comes with a nylon pouch
Having 5 included needles is awesome!
Cons
Like the Nike pump, it may overheat with repeated inflations
  Bottom Line: This alternative pump packs all the main features at a cut-price. It also has extras – the pouch and needles – which makes it a pretty hard option to beat for the money.
​
Recommended Next: Check out our latest post on beginner's guide to soccer next!
Conclusion
So we've overviewed the main types of pumps and how they work alongside their main components. The three reviews are all hand pumps, these are easily powerful enough to pump up a few balls quickly and there's really no drawback given their portability and price.
The Under Armour pump is the best overall and with good reason, it's strong, powerful and best of all, it has a gauge which is extremely useful. Throw in the two needles and you have a pump which will last the ages.
The Nike pump is powerful for its tiny size, super portable and features awesome durability also, it rates as the best affordable option. The Valiant pump is a great alternative, it performs well and comes with a nylon bag and a staggering 5 needles which can't be underrated as you WILL lose them!
Ultimately, all of these soccer ball air pumps are great but for tried, tested and ranked performance, the Under Armour pump comes first owing to its power and pressure gauge, this pump will make pumping soccer balls a breeze!