Soccer is a game that is deceptively simple to play, as it's incredibly difficult to master. The beautiful game, as many fans and experts call it, requires a lot of skill and finesse. While many people are born with that innate talent for the sport, others must work on it day and night. If you find you are more in the same camp as the latter than the former, there are various ways you can improve your training.
For one thing, you should consider a soccer rebounder.
Some of the links below are affiliate links, meaning, at no additional cost to you, we may make a commission if you click through and make a purchase.
Buyer's Guide
Before we dig deep and look at some of the best value soccer rebounder nets on the market right now, we will first look at what a soccer rebounder is, why you should use it and what you need to consider when investing in one.
What is a Soccer Rebounder?
For those who don't know, a soccer rebounder is basically a training device that resembles goalposts and a net. The only difference is that when you aim and kick balls at it, they are passed back to you. The one constant with most of the designs out there is they are portable. Most other components and features vary from one make and model to the next.
Why Invest in and Use a Soccer Rebounder?
As we've already noted, soccer is an easy enough sport to play, in theory. With a soccer bounce back kit, you can really work hard on your footwork, speed, timing and control when shooting or passing.
How to Use Rebounding Soccer Nets
If you are interested in tweaking your shooting skills, get yourself a few soccer balls and start aiming shots from the edge of the box on the pitch. Whereas if you want to practice some world-class passing, get a friend and see how many times you can repeatedly pass the ball back using the rebounder to assist.
The above is all well and good. Though it's worth noting that both shooting and passing can be taught and practiced without the use of a soccer kick back net. One skill that is very difficult to really master without a soccer goal rebounder though is dealing with high balls. With any high ball, the first ball, the first touch you have is the most crucial.
There have been plays in the past where the first touch a player has when receiving a high ball in the box can really make a difference to whether they score or not. It can be hard to practice volleys, trapping, chest control and other moves when you receive a high ball when you are only playing by yourself.
That is, if you do not have a soccer ball rebounder. By kicking the ball into the net in a certain way and angle, depending on the model you have, you can work on your first touches.
Things to Consider When Investing in a Soccer Training Net
Like any product, especially if you are buying it online, there are a lot of important things you need to consider before buying it. Soccer kick back kits and rebounders are no different. In this part of the buyer's guide we wanted to highlight the most important of these considerations you need to make.
Dimensions and Size
Now, as long as you have a wide-open space or a pitch to use it on, you will want to make the most of using it. When buying a rebounder though, you need to think about the size. Not just in terms of the experience it may give you, but of what it would be like when folded down. Do you have space for it in your current automobile?
The Weight
Following on nicely from the above, you will want to invest in a lightweight rebounder, especially if you are going to be carrying it, even from the car to the pitch, over a long distance. However, you need to find a good balance of it being lightweight, but also not too light that it could get knocked over by boisterous shots or a strong gust of wind.
Durable and Robust Construction
Any good quality rebounder should be able to handle repeated hits of all speeds from all angles without breaking or damaging easily. Although you may have a very definite price in your head that you're not really prepare to go over, it might be worth investing in a more expensive model.
Especially if it means you will not have to deal with a net that has started to fray or develop holes or a frame that is wobbling around.
Ramp or Net?
You will notice when looking at the selection of soccer rebounders that there are those that resemble a proper set of goalposts more with a net and those that are referred to as being a ramp. Which do you invest in? It really depends on what you prefer. While nets tend to be a lot more lightweight, ramps are usually more robust and durable. Nets are also more versatile.
Whereas ramps are only usable if you pass the ball along the ground, rebounder nets can be used to handle passes and shots of most heights, if they are not higher than the net, that is.
Easy to Assemble
This is self-explanatory, as you will not want to spend too much time trying to put one together, you will want a soccer rebounder that doesn't require a lot of complicated assembly. For instance, you get some that the nets are very tight, which is often to play with, but a nightmare to assemble.
Rebounders That Produce More Random Rebounds
While many rebounders will pass the ball back in the same direction, you can invest in some models that rebound balls back in more random directions. This is great for training purposes, as it can improve your ball control and reflexes as you'll have a more realistic soccer game experience of rebounds. They can come from any direction.
Price
Although the price is not something you should base your entire decision on, you need to be aware that with soccer rebounders you often get what you paid for. Meaning, if you insist on sticking to one of the cheapest models, it will perform as well as anything would for the price tag. We would suggest aiming for the midway mark, but again that's more a personal preference than anything.
Best Soccer Rebounders
SKLZ Quickster Soccer Rebounder Net    
*** Our Top Pick ***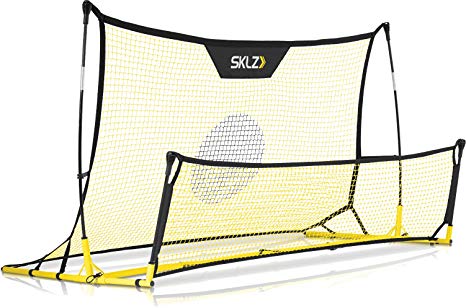 First on our list and in our opinion the best rebounder on the market, the SKLZ Quickster is a game of two halves, just like soccer itself. On one side it can be used to perfect passes across the ground, whereas on the other side, it's designed for dealing with those higher balls.
Compared to some models though, rather than incorporating a ramp, SKLZ have doubled up on the netting. Which means, basically, that whether it rolls over the ground or not, the larger side is compatible with any pass. As it does not have a ramp in its structure, it's especially lightweight, at just around the 13.2-pounds mark.
One thing we were concerned when looking at this model was the fact that neither does the structure or the net look especially tough or durable. You may agree that it looks rather flimsy. However, based on what people have suggested about using it, the Quickster holds up incredibly well when subjected to even the harder and faster shots.
This is largely due to the four ground stakes that come with the net, that keep it firmly in place. The only real downside we noted is that, rather surprisingly, you need to put a lot of force and power into your passes if you really want it to rebound enough back to you.
Finally, one of its biggest advantages, is just how quick and easy it is to setup and put away. Compared to others, like the popular SoccerWave Jr, it only takes about 10 minutes once you've mastered the installation process.
Pros
Built with two sides for different rebounds
High side of net will rebound passes even when they aren't rolling
Very easy to setup and lightweight
Cons
Not the springiest of nets
  Bottom Line: When it comes to buying a rebounder, if you are not wishing to spend too much, want one that offers a flexible experience and is incredibly lightweight, the Quickster is worth considering. It is all those things and more.
Tekk Trainer Rebounder Goal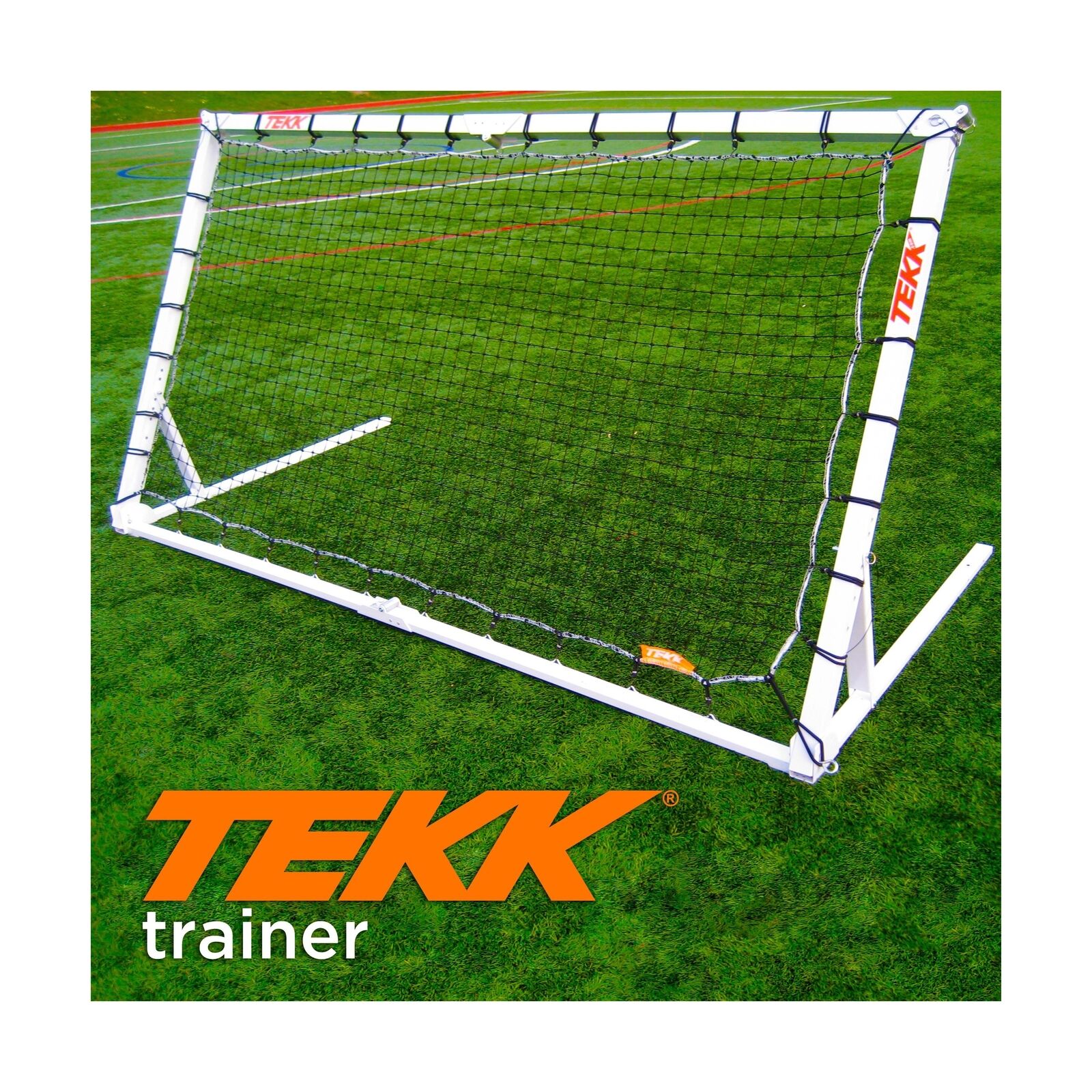 If you look at just about any rebounder review list, there is one or two that will always feature. The Tekk Rebounder is one. This is ideal if you want a net that is generously sized, but also adjustable, as the impact zone angle can be set to a position that's best for your needs. Aside from that, another major advantage of owning this rebounder is the fact it's built with 12 spikes.
Those ground spikes ensure that it won't move at all. The only major downside we can see with this option is the fact it's so expensive, compared to others. However, we can't really defend that as an argument for not considering it, as the reason you pay more is for the customizable settings and the fact it is so lightweight and foldable.
There is no need to spend any real length of time assembling it, just simply unfold it and hey presto, it's ready to be used. The netting is made using high quality and very tough 6mm bungee strapping, so you can have confidence that this will last a long time indeed. Even if you slam the ball against the net, it will respond accordingly.
Pros
Adjustable angle
Folds down easily and is portable
Provides awesome bounce
Cons
The price tag may put some people off
  Bottom Line: If we had to pick out anything, we felt was a bit off with the Tekk rebounder, it's that price tag. However, if you're looking for a net and rebounder design that is foldable and compact, easy to setup and will remain firmly in place, while offering adjustability, then this may be the product for you.
QuickPlay Pro Rebounder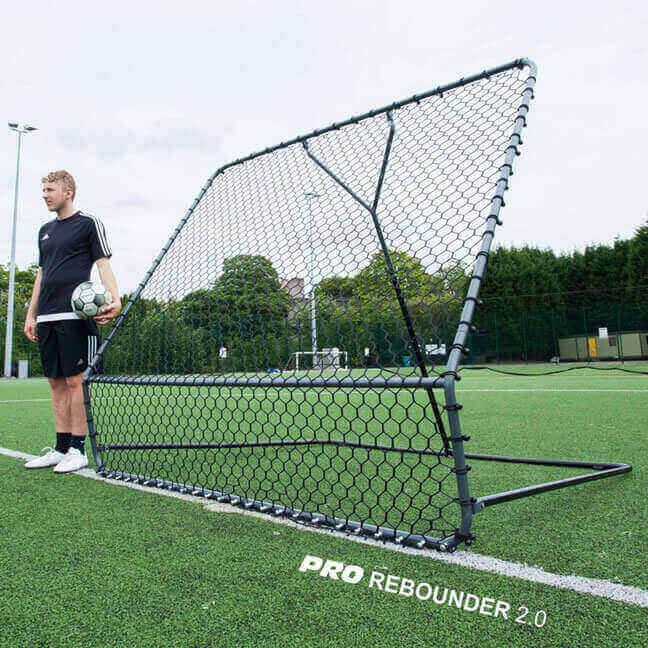 At the other end of the price range to the models above, the QuickPlay Pro Rebounder is an option you might want to consider if you have a tight budget and want something that's simple to setup and use. As well as not having a ramp like some models, it doesn't come with two different nets. It's basically a set of goalposts and a net.
Don't let its simplistic design fool you though, as it still offers a lot of flexibility and different options for practice. It's adjustable for a start and can be set to just about any angle you can imagine, including those bigger than 90-degrees. So, as well as practicing your ground passes, you can work on bouncing, low balls and trapping alongside your volleys and chest control.
One crucial thing to note is that the QuickPlay model is available in three sizes, 3 x 3-feet, 5 x 5-feet and 7 x 7-feet. It should be noted that if portability is important to you, the bigger sized nets are not going to meet your requirements. One extremely cool thing that makes up for the lack of portability though is the use of rubber pads rather than stakes.
This basically means it can be used on various surfaces, and would be just as suitable for your patio, decking area or the grassy part of your yard.
Another awesome thing to consider about this model is the fact that despite its relatively low price, it still comes with a generous 2-years guarantee on parts from the manufacturer. Part of the reason why they are confident enough to offer that is the fact it is made from high quality steel and is unlikely to wear and tear easily.
Pros
Ideal for using on any surfaces
Sturdy and robust
Adjustable angles
Cons
Not very portable, compared to others
  Bottom Line: You need to ask yourself what you are looking for in a rebounder. If it's adjustability, adaptability and a sturdy frame that bellies the price tag, then the QuickPlay Pro Rebounder is for you.
SoccerWave Jnr Soccer Rebounder Net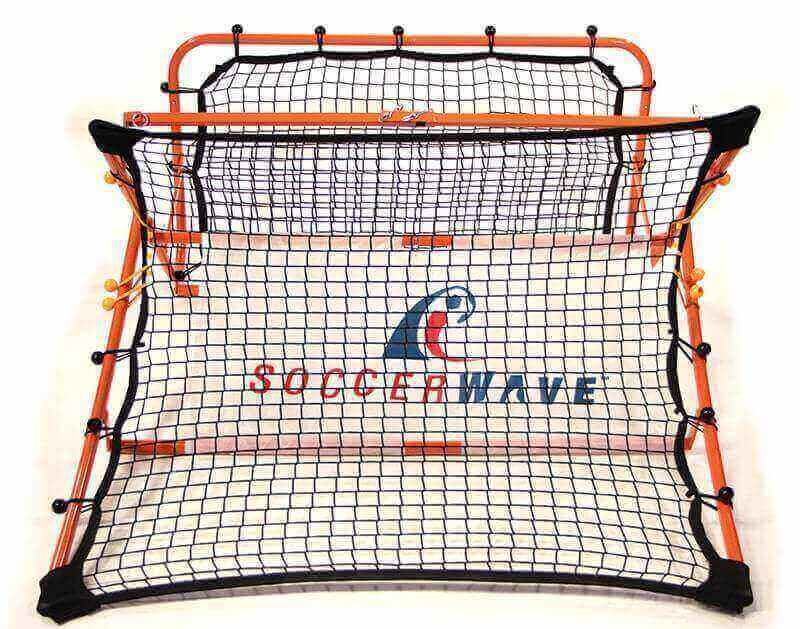 Finally, we have the very effective and high-quality soccer rebounder net from SoccerWave. This is very similar to the SKLZ Quickster, as it is a rebounder with two different sides. As explained earlier, it gives you the option to practice first touches and ground passes on one side and volleys and ball control on the other.
By far the most impressive thing about this rebounder, though, is its ability to provide a real-life simulation of soccer during practice sessions. Thanks to the ramp incorporated into its design, the rebounds will vary each time, meaning you need to have sharp reflexes as it won't always return directly back to you when you pass or fire a shot at it.
SoccerWave have also been very clever when designing it as it's extremely practical. It is constructed from two parts, which are easy to assemble and disassemble, making it easy to transport compared to others. That is, once you get the hand of it. Still, we need to mention that it's a lot bigger than many others. However, at just 27-pounds or thereabouts, it's still relatively lightweight.
As it benefits from anti-rust qualities, it's a very long-lasting and durable rebounder. When you consider that SoccerWave is one of the most highly regarded brands on the market and the fact that the price tag is very reasonable, the downsides are easy to overlook.
Pros
Two different rebound surfaces for practicing different techniques
Offers more unpredictable rebounds
Sturdy and easy to transport, disassembles into two
Cons
First time setting it up can be tricky
  Bottom Line: The SoccerWave Jnr is one rebounder we knew we couldn't not review. It just has so many things going for it. Although it didn't quite make it as the best overall in our guide, it is still worth serious consideration.
Recommended Reading: Don't miss our beginner's guide to soccer!
He Shoots and Scores!
As we've now arrived at the summary for our review of the best soccer rebounders, we hope you've found it as fascinating to read as it was for us to research and write. While our buyer's guide highlighted some of the key things you need to consider before buying a rebounder, the reviews above are testimony to the fact you could choose any we covered and have a good experience.
Like so many things in life, it all comes down to personal preference and what you are looking to get out of your soccer rebounder. In terms of the best overall, there was only going to be one and that's the SKLZ, as it is affordably priced, adjustable and lightweight.
The best value for money, though, may be the SoccerWave Jnr. That offers adjustability, portability and provides one of the most authentic simulations of actual soccer game rebounds.