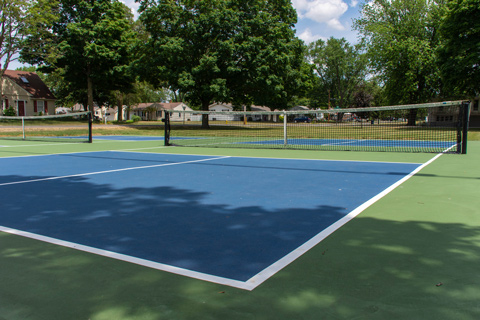 Looking for a new portable pickleball net but do not know where to start? Check out our reviews of the top portable pickleball nets available.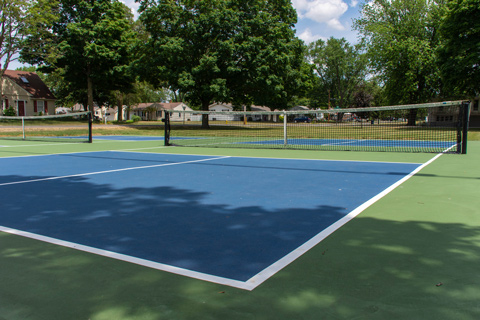 So, you have been playing pickleball for a while now and have fallen in love with the game – just like many others have – and are now thinking of buying your very own portable pickleball net so that you can take your game on the road.
Well, other than looking to see if any of your friends might have a pickleball net for sale, you are going to have to go and buy a brand new one for yourself.
Fortunately, these are not too difficult to find and there is a fairly good selection of them for you to consider. Pretty much any net will be able to provide a good pickleball experience but just like any other product, some will be far better than others.
The last thing you will want is a net that can be blown over by a single breeze, is made of cheap materials that will break eventually, or one that is far too complicated to put together.  Pickleball can be quite challenging for the equipment so you need something which will last the distance.
You want a net that is made of solid and durable materials, is of regulatory sizing and is going to be light enough for you to be able to carry around. Furthermore, you will want a portable net that is easy to set up while a good carry case is also a big benefit – especially if you will be moving it around quite a lot. There's not much point having a portable pickleball net if it's not actually portable, is there?
So, in order to make the process of finding a portable pickleball net that so much easier, we have done the hard graft for you by testing all of them on the market and coming up with our top recommendations. There are two detailed below that we would have no problem recommending – have a look and see what we think before deciding to invest your hard-earned money.
Some of the links below are affiliate links, meaning, at no additional cost to you, we may make a commission if you click through and make a purchase.
The Best Portable Pickleball Nets
These are the 2 pickleball nets that we recommend over all others. Read on to see why hold them in such high regard.
3.0 Portable Pickleball Net System
[easyazon_image align="center" height="500″ identifier="B00FSHFF2I" locale="US" src="https://images-na.ssl-images-amazon.com/images/I/41ef1kWDt0L.jpg" tag="skillspeedpower-20″ width="335″]
We have reviewed two pickleball nets that we feel are among the best out there and the cheaper of the two nets, albeit but not all that much, is the 3.0 Portable Pickleball Net System. This is a portable and lightweight net that looks great, is well-designed and can be set up in just a matter of minutes.
Firstly, as a portable net, one of the things many of you will want to know about is how heavy it is when moving it about. Well, the entire product including the frame, nets, carrying case and everything else come in at a very light weight of 22lbs. This means that you should never have too much trouble moving this net from one location to another. A little disappointing is the fact that you will actually have to carry the case as there are no wheels that will allow you to pull it along, but at 22lbs you should not be finding that too challenging.
As for setting up the 3.0 Portable Pickleball Net System, this is easily done but we recommend having two people to do this. It is more than possible with one person but it is just so much easier with two of you working together. The metal frame snaps together and really should only take a few minutes to set up.
Once you do have it set up, you will notice how sturdy it can be. Sure, like any other portable net it will struggle on the windiest of days but it can certainly live with a gust or two. Another feature you will notice is that the crossbar at the bottom of the net is higher than with most nets. This has been done purposely to allow a pickleball to roll beneath the net. This makes it easier for players as they can kick them to each other rather than having to bend over to pick up the pickleball.
The net is made from a high-quality mesh and an innovative 'Easy Buckle' net tension system will help you to keep the net tight and taught at all times. Also, importantly this net conform to official sizing and specifications so that you will also know that you will be playing at the correct measurements when pinging your pickleball over the net. To be fair though, the next net we will be reviewing is also of official sizing too.
Pros
Takes minutes to set up
Good stability levels
Impressive build-quality
Cons
No wheels on carrying case
  Final Verdict: We have tested a number of pickleball nets over the years and while most are adequate at what they provide, we really feel that the 3.0 Portable Pickleball Net System is one of the best. Not only in terms of the actual system and how it is easily set up and moved around but also in terms of value for money. As we mentioned, this is a little cheaper than the next net we will be taking a closer look at which will please those of you that like to save money wherever they can.
[easyazon_cta align="center" identifier="B00FSHFF2I" key="wide-orange" locale="US" tag="skillspeedpower-20″]
Curious about pickleball? Find out how to play it in our latest post.
OnCourtOffCourt PickleNet
[easyazon_image align="center" height="333″ identifier="B006U0X09W" locale="US" src="https://images-na.ssl-images-amazon.com/images/I/516ZZuYYq7L.jpg" tag="skillspeedpower-20″ width="500″]
Now, if you wanted to be as close to owning an official net as possible, the OnCourtOffCourt Picklenet is going to be the one that you want. OnCourtOffCourt has been in the pickleball business for close to ten years now and their nets are actually used officially by the USAPA (although under official branding rather than the PickleNet branding you get here).
So, to put it simply, this is the official net that the USAPA use but yours will say PickleNet instead of USAPA. Obviously, this also means that your net will meet the required size and height regulations of the sport that you are now going to be able to enjoy more conveniently.
We do have to point out that the PickleNet is both more expensive and heavier than the 3.0 Portable Pickleball Net System above but you are getting an official net here. It weighs in at 32lbs compared to 22lbs but this is still more than light enough for you to be able to carry around easily.
The powder-coated steel frame net system and the accompanying net are easily set up with the oval tubing system easily locking into place. We do have to say that we think the OnCourtOffCourt system is the sturdiest of the two but it really is very close in all honesty. Both will be able to handle a few gusts here and there but will struggle in extremely windy conditions.
As for the carry case, again this does not come with built-in wheels which is disappointing. It scores some extra points though for being constructed of a durable 420D nylon and has a number of pockets that you can use to store the many pickleballs that you might be carrying along with it.
Pros
The same patented system used in USAPA events
Very easy to set up
Impressive stability & build quality
Cons
No wheels on the storage bag
  Final Verdict: Well the logic would say that if this portable net is good enough for the USAPA then it should be more than good enough for anyone else. This is certainly true as it is definitely a good pickleball net which is probably the best of them all that is out there right now. That said, there are many good alternatives such as the 3.0 Portable Pickleball Net System that is not too far behind in terms of the quality and convenience of the OnCourtOffCourt PickleNet.
Your decision will essentially come down to whether you feel paying a little more for an official product is worthwile.
[easyazon_cta align="center" identifier="B006U0X09W" key="wide-orange" locale="US" tag="skillspeedpower-20″]
Recommended Article: Don't miss our guide to the top performing pickleball shoes next!
Conclusion
So, there you have it, our top two recommendations for anyone that is looking for a portable pickleball net. One is the official net and another is a young and up and coming pretender that is certainly not far behind. They both are regulation size, are easy to put together, carry around and are sturdy enough to withstand a bit of windiness. The main difference is the price and perhaps a little more in terms of quality in the direction of the OnCourtOffCourt PickleNet.
In our reviews, we always try and say which of the products we look at are the best and which of them are the best value for money. We think that in this case, the answer is going to be quite straightforward. The OnCourtOffCourt PickleNet is the slightly better system and therefore gets our vote as the best net but the 3.0 Portable Pickleball Net System would be our choice in terms of value for money.
Either way, we can guarantee that you will not be disappointed whichever of the two that you decide to go for. You will be able to enjoy the same high-quality pickleball action no matter which of them you choose.
Recommended Reading: We recommend and review the leading pickleball balls next!
Don't forget to follow us on Facebook to stay up to date with all the latest news at skillspeedpower.com