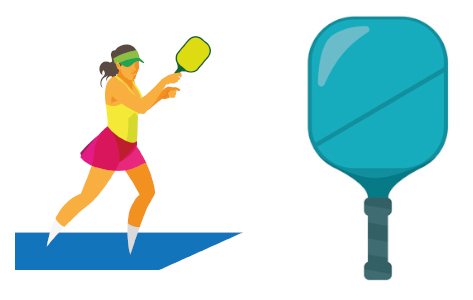 Looking for a new Head Pickleball Paddle to use and are not sure which to go for? Then read our reviews on four of the very best of them!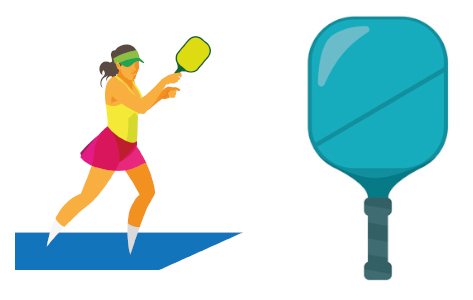 Pickleball is a sport that has enjoyed a quick surge in popularity over the past few years and when you now see names such as the Tennis racket manufacturers, Head getting involved, you just know that it is a sport that is rapidly on the rise.
Head has long been one of the leading manufacturers in the tennis industry and just a year ago they suddenly announced their interest in Pickleball by releasing eight head paddles all at the same time.
We have picked four of these eight to review as we believe them to be the best of them and while they are all quite similar in size, weight, and price, they do have their differences and will suit the playing styles of different players.
Before we get started with looking at the four particular Head pickleball paddles that we have reviewed, it would be important to first tell you the similarities of each one as they do actually share a lot in common.
Essentially, they all share very the same dimensions of 16" x 7 7/8" for the paddles and 5" x 4 ¼" for the grips. Along with the same dimensions across the board, the four paddles in our review also share a similar weight of around 8oz.
The main differences come in the shape and design of the paddles with some being focused more on the power hungry players and others purposely designed for players that like to excel at controlling the pickleball rather than just smashing it. You will find more about each particular Pickleball Paddle in the following reviews:
Some of the links below are affiliate links, meaning, at no additional cost to you, we may make a commission if you click through and make a purchase.
The Top Models Compared
See how the top head pickleball paddles compare in the table below.
We review each in detail in the following section.
Model
Details

OUR TOP PICK

Head Radical Pro

– USAPA approved

– Polymer Honeycomb core

– Longer face design

[easyazon_cta align="center" identifier="B074GHNT62″ key="small-orange" locale="US" tag="skillspeedpower-20″]

Head Extreme Pro

– Fiberglass finish

– Extreme Spin Texture

– Polypropylene honeycomb core

[easyazon_cta align="center" identifier="B074GKVWFV" key="small-orange" locale="US" tag="skillspeedpower-20″]

Head Radical Tour

– Graphite/carbon hitting surface

– Optimized Tubular Construction

– Large sweet spot

[easyazon_cta align="center" identifier="B074GFKF7P" key="small-orange" locale="US" tag="skillspeedpower-20″]

Head Extreme Tour

– Lightweight carbon

– Extreme Spin Texture

– Designed for pros

[easyazon_cta align="center" identifier="B074GG5617″ key="small-orange" locale="US" tag="skillspeedpower-20″]
Best Head Pickleball Paddles
Let's take a look at our recommended paddles in a bit more detail. Find out what makes each one special.
Head Radical Pro     

*** Our Top Pick ***
[easyazon_image align="center" height="482″ identifier="B074GHNT62″ locale="US" src="https://images-na.ssl-images-amazon.com/images/I/416IvrU6sQL.jpg" tag="skillspeedpower-20″ width="482″]
The Head Radical Pro Pickleball is the first of the head range that we will review and this one while it has been designed primarily with power hitters in mind, offers up the ability to improve all aspects of playability. The paddle and grip are both finished with fiberglass and this is the material that, in terms of the hitting surface, is known for its ability to increase the effectiveness of the sweet spot when striking a pickleball.
Spin is another aspect of a players game that can be improved with this Head pickleball paddle and this is achieved via the enhanced texture that has been added to the paddle face. Comfort levels are also good with Head giving the Hydrosorb grip a premium cushion feel. As for the style, this one stands out due to its two-shades of blue which have been used for the coloration of the paddleboard.
All Head paddles come with a one-year manufacturer guarantee which is always a bonus while each of them is also tournament approved. So do you believe that the Radical Pro is the paddles best suited to your style of play? If you are still unsure, you should definitely consider reading through our remaining reviews before making a decision.
Specs
Grip Length: 5"
Grip Circumference: 4 ¼ "
Weight: 8.1 oz
Pros
Great for power hitters
Extremely comfortable
Strong & stable construction
Cons
  The Final Verdict: This is certainly a pickleball paddle that we would have no problem recommending for players of all experience levels. Ideally suited to those of you that like to hit your shots with power, you will actually be surprised at just how much additional control you can enjoy as well.
[easyazon_cta align="center" identifier="B074GHNT62″ key="wide-orange" locale="US" tag="skillspeedpower-20″]
Head Extreme Pro
[easyazon_image align="center" height="500″ identifier="B074GKVWFV" locale="US" src="https://images-na.ssl-images-amazon.com/images/I/41aKj%2B6%2ByAL.jpg" tag="skillspeedpower-20″ width="500″]
While the above Radical Pro is great at giving your shots that extra zip if your game is focused on more control, spin, and general cuteness instead of power, you might want to read through this Head Extreme Pro review instead.
When you first unbox this paddle you will straight away see the quality of build that Head is renowned for throughout their products in the tennis world. All of their paddles are made to feel strong and sturdy but with an emphasis on improving your skills at the tables.
In the case of the Extreme Pro, you are going to get much better control of your shots due to its diamond shape finish at the top and of course, a textured surface that helps to aid spin of the pickleball. You will also get to enjoy that same comfortable grip on the Radical Pro as this is standard across all the Head paddles in this list.
In terms of reviews from players, many have claimed that this paddle has really helped them with the accuracy side of their game – which is what it was designed for. In terms of the styling of this one from Head, this has a black color with the Head logo being red.
Specs
Grip Length: 5"
Grip Circumference: 4 ¼ "
Weight: 7.8 oz
Pros
1-Year warranty through head
High comfort levels
Ideal for better control
Cons
  The Final Verdict: In much the same way as the Radical Pro, the Extreme Pro is another excellent paddle that will go a long way to giving you the ability to play the sport better. Very sturdy, well-made, and obviously a paddle that will give you better control of the pickleball, the Extreme Pro definitely earns our recommendation.
[easyazon_cta align="center" identifier="B074GKVWFV" key="wide-orange" locale="US" tag="skillspeedpower-20″]
Head Radical Tour
[easyazon_image align="center" height="500″ identifier="B074GFKF7P" locale="US" src="https://images-na.ssl-images-amazon.com/images/I/41UPIoFlwZL.jpg" tag="skillspeedpower-20″ width="500″]
Next up we have the Radical Tour, another of the elite pickleball paddles from Head. The Tour range does cost a little more than the Pro range and this is probably down to the graphite/carbon material that is used to finish the paddle surface. It is this finish that really allows this paddle to give you optimum power when you hit the pickleball hard and fast.
This one has a bright red design, is used by a number of professional players, and is quite rightly one of the most popular in the Head range. While it has obviously been designed for players that prefer a hard-hitting game, it does also allow to improve your control over the pickleball and add additional spin without an increase in effort.
It has a heavy and sturdy feel which gives an increased perception of being able to hit the ball harder. It weighs in 7.9 oz and is certainly one of the heaviest among the eight Head paddles available right now. Heavier paddles are usually associated with those that are designed to be used for power shots
Specs
Grip Length: 5"
Grip Circumference: 4 ¼ "
Weight: 7.9 oz
Pros
Good value for money
Quality build
Ideal for big-hitters
Cons
  The Final Verdict: The Radical Tour is a small step up on the Radical Pro and that is reflected in the slightly higher price and the slightly better performance. The fact that many professional players choose this paddle is also a good sign, especially those that base their game on powerful finishes. We actually think that this is the best Head paddle that money can buy if you do prefer power over control.
[easyazon_cta align="center" identifier="B074GFKF7P" key="wide-orange" locale="US" tag="skillspeedpower-20″]
Head Extreme Tour
[easyazon_image align="center" height="500″ identifier="B074GG5617″ locale="US" src="https://images-na.ssl-images-amazon.com/images/I/41lpdRL1cbL.jpg" tag="skillspeedpower-20″ width="500″]
The Head Extreme Tour Pickleball Paddle is essentially the control optimized version of the Radical Tour. Again, it comes in at a bit more in terms of price compared to the Radical Pro but this is obviously due to even more emphasis being placed on the improvements that players can experience when controlling the pickleball.
This paddle has a striking appearance with an all-black design being coupled with a bright yellow Head logo. As for its shape, it has a diamond shaped top that is designed to give you better control and the super comfortable cushioned grip will leave it feeling light but well under control as you swing.
A graphite/carbon material finish on the paddle head gives off a texture that really helps with the control of the pickleball. Spin can be added effortlessly while the sweet spot for hitting harder shots will also be improved in your game.
As with all of the other Head pickleball paddles on our list, you will get a one-year warranty with Head with the Extreme Tour. This is obviously a nice touch with any product and should give you the confidence that the paddle will give you some decent durability.
Specs
Grip Length: 5"
Grip Circumference: 4 ¼ "
Weight: 7.6 oz
Pros
Perfect for adding control to shots
Extremely comfortable
Nice design
Cons
  The Final Verdict: If you have a little more to spend and want to get an optimum control boost, the Head Extreme Tour Pickleball Paddle is certainly what you should be considering buying. It only costs a little more than the Extreme Pro but there is a noticeable difference in the added control that you can get from this paddle. Your decision will ultimately come down to your budget and whether you believe that improved performance is worth the extra investment.
[easyazon_cta align="center" identifier="B074GG5617″ key="wide-orange" locale="US" tag="skillspeedpower-20″]
Recommended Next: Did any of these paddles make it onto our list of the very best?
Conclusion
In fairness, all of these paddles in the Head range are fairly evenly matched and you essentially just have to decide whether you want the slightly cheaper Pro or Tour when considering the Radical which are both designed for power or the Extreme which are designed for control.
This essentially means that if we ourselves had to pick the best of the bunch, it would be quite easy as the Tour for both, while more expensive offer the best performance. Similarly, if we were to choose the paddles which are the best value for money, that again is easy as it would be both of the Pro paddles.
Your choice will simply come down to your preferred style of play and the budget you have allowed yourself for a new pickleball paddle. If you are a power hitter you will obviously have to make a choice between the Radical Pro or Radical Tour or alternatively, if your game is based on cuter shots, the Extreme Pro and Extreme Tour will be the two to choose between.
No matter which of the four you choose from those we reviewed above, however, you will be pleased with your purchase. Made by Head, one of the leading tennis accessories manufacturers in the world, you will know that you are getting cutting-edge technology that is already being adopted by some of the best pickleball players in the world.
There are of course another four Head paddles that you can choose from as well but these four represent the best value for money in terms of performance for us. That said, they are still probably worth taking a look at before making a decision.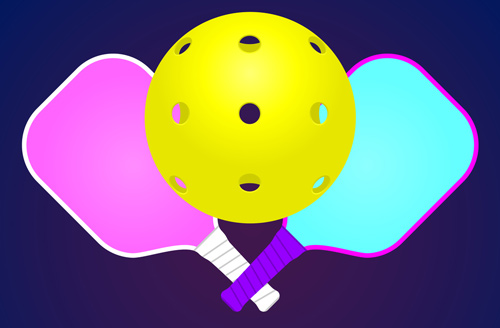 Pickleball Paddle Buyer's Guide
Pickleball is one of the fastest growing sports in the world and this is easy to understand why when you consider the addictiveness of the game. Players need to have skill, precision and need to be a lot fitter than you might expect. They also need to have a good quality paddle if they want to improve their chances of becoming a good player.
In fact, all of the pickleball equipment that you choose is going to be important if you are a serious player but the paddle is certainly the most important of them all. The problem is, that frankly, you have so many paddles to choose from which makes it difficult to know which to get and which would be best suited to your playstyle.
There are so many considerations that you need to think about when buying a new pickleball paddle and in this buying guide, we will take you through some of the more important of them.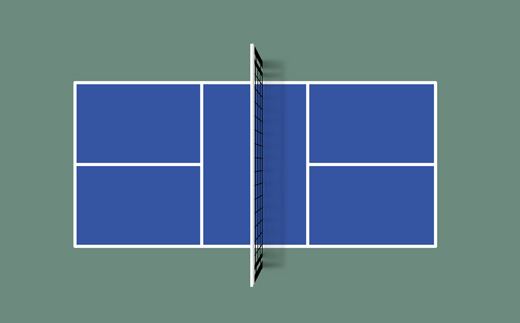 Recommended Reading: Interested in playing a tournament near you? Check out our list of pickleball tournaments.
The Weight of the Pickleball Paddle
If you were to ask a professional player what they first look for when buying a paddle, the answer in most cases will be that of the weight. Everybody will have their preferred weight and this will usually be down to their chosen playstyle and the comfort levels of using such a weight.
Most paddles will weight between 6 and 10 ounces and you might be thinking that this weight is nothing, so why is it so important? Well, despite a low general weight, you will be swinging this paddle a lot during matches and after a while, that weight will start to affect you. Furthermore, it is widely known that the heavier the paddle, the harder the shots that can be produced while lighter paddles give players better ball control.
So basically, you need to find a paddle weight that strikes a good balance between how you play and how comfortable you feel when using it after a prolonged time.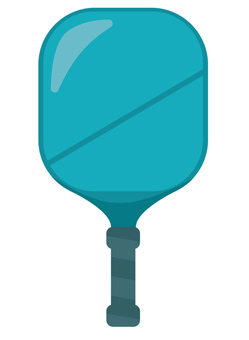 The Size of the Grip
Another consideration is the size of the grip of the paddle that you are going to use. A paddle that is too large or too small will not feel comfortable in your hand and will be easier to drop at important moments.
Hand sizes will differ from person to person but in general, shorter players will have smaller hands and vice versa. An average grip is around five inches in size, 4 inches is more suitable to those that are shorter while bigger players may need at least the five inches or more.
Additionally, the grip circumference will need to be considered as well as this will determine how comfortably a grip feels in your hand. To make things easier, you really should feel a paddle before you purchase to find one that is comfortable.
Recommended Reading: Don't miss our guide to the top pickleball nets.
The Size and Shape of the Paddle Face
This is the part of the paddle that you will be using to strike the ball and is of course, another area that needs to be thought about when looking for a new one to buy. The technical specifications for an 'official' pickleball paddle mean that in total it is not allowed to have a combined width and length that is greater than 24 inches.
With that in mind, you will find that there are normally two different styles used. Some offer a wider hitting surface that is 8 x 16 inches or longer surfaces that are 5 x 19. There are of course some in between so it would be worth considering the shape and size before buying.
New players often want a wider area while more accomplished players prefer a narrow but longer hitting surface as their accuracy levels are higher and this allows them to perform more controlled shots.
Materials Used for Pickleball Paddles
The game of Pickleball has come a long way from the wooden paddles that were originally used. You could say the same for other sports such as tennis too which had similar origins of wooden rackets before then going on to use other more modern materials.
While wooden paddles are still used by many today, one of their main downsides is their weight. Other materials such as polymer plastic, graphite, and composite are now increasingly being used as an alternative due to their lower weight which does not sacrifice any power or control.
Graphite paddles, in particular, are extremely popular right now due to the excellent control and power that they can offer players despite being lighter.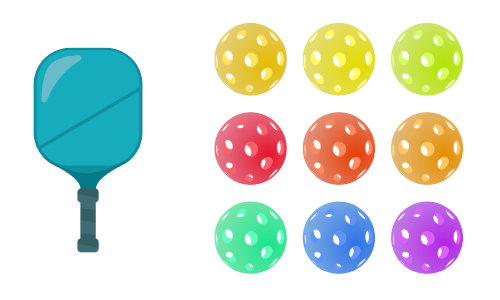 The Durability of Paddles
Durability is another consideration that needs to be thought about. Many modern paddles can be quite expensive so you will want to make sure that the one you purchase will be able to stand some abuse. All areas of your paddles from the handles to the face will need to be able to withstand a lot of use for them to be deemed worth the price tag.
The best way to gauge the durability of a paddle will be through reviews of others that have used them. Furthermore, buying a paddle with a warranty is always a good idea as you will be able to have the peace of mind that you can have it replaced if there is anything wrong with it.
Paddle Design
Now, this might not be right at the very top but many of you will still want your paddle to look good. There are some great designs out there, some with bright colors and others that use stylish patterns and logos to great effect. Which one you choose will obviously come down to personal preference but we do still feel you should consider everything else about a paddle before then choosing one that suits your taste in terms of aesthetics.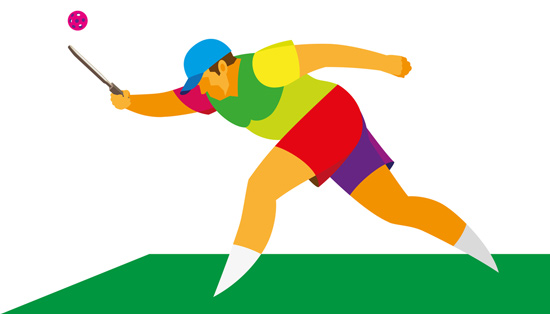 The Cost
Of course, the cost will come into play at some point and how much a person is willing to pay will usually depend on how serious a player they are. Some are definitely better value for money than others but generally speaking, if you want the best paddle, you are going to be paying the higher amounts of money.
The four we listed in our recommendations above are certainly some of the best in terms of value for money while we argue that they are among the best in terms of performance as well.
Summary
So as you can see, there is quite a lot that you will need to consider before buying your next pickleball paddle. It would be nice if choosing one would come down to price and design only but it is how they perform in your hands that will determine whether they are the right fit for you.
We recommend that you try a few of them out first before then coming back and buying your preferred choice online where you will generally find the best prices. If you are not able to do this, the next best thing would be to research each paddle and read as many reviews as possible.