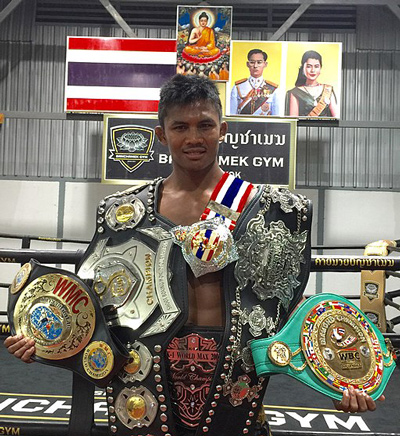 Love Buakew Banchamek? We've put together a list of 9 awesome things that you might not know about the legendary Thai fighter.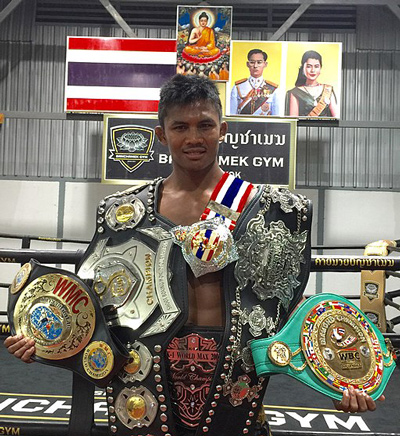 Buakaw Banchamek, also known as Sombat Banchamek, is a Thai welterweight Muay Thai kickboxer. He originates from Thailand and he has fought for the Por. Pramuk and self-titled Banchamek gyms.
He has a high level of skill in the sport and a large net worth, as one of the most well-known names in Muay Thai.
However, beyond his ability in fighting, not many people know some of the other facts that have shaped his life and career. Below, we'll look at some of the facts that you may not know about this incredible fighter.
Some of the links below are affiliate links, meaning, at no additional cost to you, we may make a commission if you click through and make a purchase.
1. He wanted to fight from an early age.
In Thailand, the sport of Muay Thai is extremely popular, and is practiced regularly by groups across the country. When Buakaw was around 7 or 8 years old, he went to see a local Muay Thai fight in his home of Bansongnong county. He loved the performance so much, that after the show he spoke to his parents about becoming a Muay Thai fighter. His parents approved of the idea and he began his fighting training several days afterwards.
2. He previously went by another name.
Buakaw Banchamek was previously known as 'Buakaw Por. Pramuk,' fighting in the name of his old gym, Por. Pramuk. Though this was the gym that helped propel him to fame, it also caused him a number of personal problems. It's said that his manager siphoned off around 95% of Buakaw's earnings from his fame. When he temporarily retired in 2012, it was to distance himself from the gym. He also appeared on a Thai TV show, explaining that the gym had been mistreating him for years.
3. His training routine is incredibly intense.
It's not easy to attain the kind of physique that has made Buakaw a famous Muay Thai champion. Each morning, he wakes up at 5:30 to undergo a 5 to 10 mile run. Afterwards, he undergoes his usual training, which is made up of 15 rounds of fighting work, sparring or other strength training. In the mid-afternoon, Buakaw goes for another long run, before entering the second round of his training program with more fighting, sparring and strength training.
4. He reportedly nearly gave up fighting.
Buakaw is a champion these days, though at the beginning of his career, he experienced a string of losses that made him question his future in Muay Thai. As a well-practiced sport in Thailand, Buakaw's competitors at a national level when he first started fighting, were strong; he suffered from a string of 4 or 5 defeats in his first national-level fights. However, his gym helped him to continue with his career, and once he competed overseas in K-1, he began to dominate more regularly.
5. He temporarily dabbled in other martial arts.
During a temporary retirement from the Muay Thai ring, Buakaw was sighted participating in training for a range of other martial arts, including Jiu-Jitsu and Judo, as well as some wrestling. For some time, people postulated that he may be training towards an MMA (Mixed Martial Arts) career, though this did not come to fruition. On August 17th, 2012, Buakaw returned to the Muay Thai ring.
6. He is skilled in other sports.
Buakaw is best known for his fighting ability, though he is also skilled outside of the ring in other sports. In 2014, Buakaw signed as forward for RBAC Football Club, a major football team in Thailand. When questioned as to why he decided to take part in this sport, Buakaw said, "I've been a football lover since I was a kid. To be a professional footballer is also one of my dreams." So far, Buakaw has managed to live up to both of his dreams of becoming a famous Muay Thai fighter, as well as a professional football player.
Check out our favorite Ibrahimovic quotes for more interesting football facts.
7. He helped to build a gym in his hometown.
With the assistance of one of his sporting sponsors, Yokkao, Buakaw built his own Muay Thai gym in his hometown after leaving the Por. Pramuk Gym. The gym was named the Banchamek Gym, and was created to offer both a place for Buakaw to train, as well as a place for children in his village to learn the art of Muay Thai. It took just 10 days for the gym to be built from the ground up. At this point, Buakaw no longer fought under the name of the previous gym that mistreated him, but rather the name Banchamek.
8. He was awarded an honorary Master's and PhD.
Kasetsart University in Thailand awarded Buakaw an honorary Master of Science degree in 2013, for sports science; he was given this for 'outstanding contributions' as one of the best-known and most successful athletes to come from the country. Additionally, he was honored with a PhD. in regional development strategies by Surindra Rajabhat University in 2014. This qualification was awarded for being a representative for the ancient art of Muay Thai and ambassador for Thailand in sporting achievements.
9. He has a vast array of victories.
Buakaw has managed to gain some incredible achievements over the years, accruing a great many titles under his belt as a Muay Thai legend. He's been WMC Champion on multiple occasions, as well as Omnoi Stadium Champion, Shooto Boxing S-Cup World Champion, WBC Muay Thai Diamond Champion, Thai Fight World Champion, and many more. He was also the world's first fighters to win the K-1 World Max on two separate occasions between 2004 and 2006.
---
We hope you enjoyed our latest article on Buakaw Banchamek. To stay notified of our next articles and all the latest news in the sporting world then follow us on social media. Just click the Facebook link on the right of the page and you'll be subscribed in seconds.
Ever heard of pickleball? Well, it's a sport that's becoming incredibly popular. Find out all about it in our latest post.
Image:
By Teerawat yioyim [CC BY-SA 4.0], from Wikimedia Commons