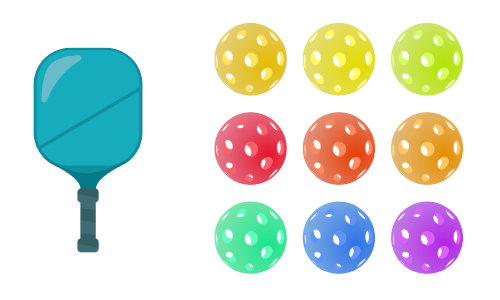 Wondering which are the best pickleball balls that money can buy? Then come and read our reviews and opinions on exactly that!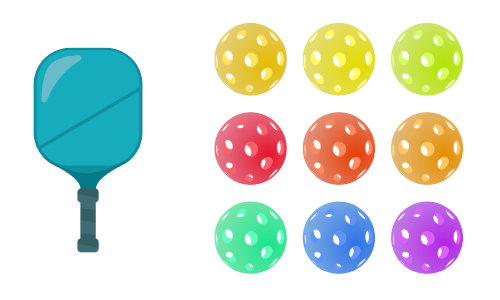 So, you have your paddle ready, you have your net, you have some shoes and are now you are after the remaining and possibly the most important piece of equipment left, the pickleball balls.
Now, you would be forgiven for thinking that buying these is pretty much straightforward as they are all the same, but you will actually be quite surprised to learn that there are many differences between a quality-made pickleball and the cheaper efforts that you will see in stores today.
Some of the links below are affiliate links, meaning, at no additional cost to you, we may make a commission if you click through and make a purchase.
[toc]
If you have played for some time you should also know that there are pickleballs which are designed to perform optimally indoors and others that are for outdoors too. While you might get away using the wrong type in the opposite environment, you will never get the same performance compared to those that are designed for each purpose.
When buying a pickleball ball, the main thing that you should be looking for is durability as it is commonly known that even the best balls will eventually wear out, crack, or lose their naturally round shape.  This is a sport which is heavy on contact for the equipment!
Well, to help you in your quest to find the best pickleball balls for your game, we have reviewed a couple of them that we feel are the best available right now. In these reviews, you will find out just why we believe this to be the case. We have reviewed one set of balls for indoor and another for outdoor so that you have the best choice for whichever environment you plan to be playing in.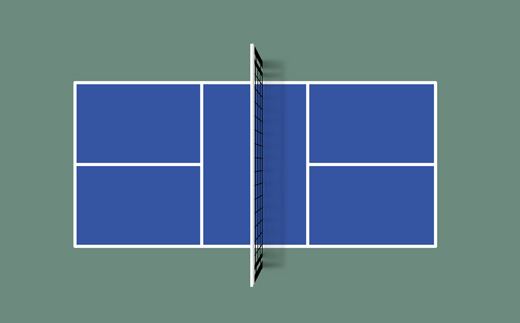 Buyer's Guide
If you're new to pickleball have a quick read over the key features that set the balls apart.
Differences Between Indoor and Outdoor Pickleball Balls
Before we get started on showing you the two types of balls we feel are best for a specific environment, we thought it would be best to let you know how you can tell the difference between the two.At first glance, both balls look similar simply because they are made of plastic and will have a number of holes in them. However, in reality, there are a number of ways for you are able to tell the difference between an outdoor pickleball ball and an indoor one.
Indoor Pickleballs Have Larger Holes
Outdoor pickleballs have to contend with the wind and this is why they usually have smaller holes. This allows the wind to travel through the balls easier without being too affected and carried by the wind. Indoor balls, on the other hand, do not face any wind resistance – hence have larger holes.
Outdoor Pickleballs are Made of Harder, More Durable Plastic
As well as the weather, outdoor pickleballs have to deal with harder and rougher playing surfaces too. This means that they need to be constructed of tougher plastic so that they can withstand at least a decent amount of play before needing to be replaced. On the flip side, an indoor ball will be made of softer plastic which is designed specifically for the surface they will generally be used on.
Okay, so with that out of the way, you are now ready to take a look at the outdoor and indoor pickleball balls that we recommend. We have tried and tested pretty much all of the major brands and even some lesser-known brands and while most did a good job it was the following two that took the plaudits in our humble opinion.
Recommended Next: Read all about on how to play pickleball next.
The Best Pickleball Balls
In our opinion, these are the top balls on the market right now. We've included our favorite indoor and outdoor models. Read on to find out what makes them so special.
Best Outdoor

: Onix Pure 2 Outdoor

[easyazon_image align="center" height="500″ identifier="B01J6OSIPE" locale="US" src="https://images-na.ssl-images-amazon.com/images/I/315lRq3n0DL.jpg" tag="skillspeedpower-20″ width="318″]

If outdoor pickleball action is what you prefer due to its fast and frantic playing style, you are going to need to purchase some pickleball balls that have been designed specifically for outdoor matches. Now there are a number of different options that you have in this regard but we would have to suggest the Onix Pure 2 Outdoor Pickleball balls.

Why? Well, firstly they meet the official specifications set out by the USAPA and are therefore the same size, weight, shape and meet all other laid down, exacting standards that players use in official matches and tournaments. Secondly, they have a bunch of features that allow them to stand out against other outdoor pickleballs. Those special features are as follows:
True Flight Technology: This technology ensures that each ball delivers supreme playability and accuracy when being played on the courts. The balls are designed to be heavier than indoor balls which allows for straighter flight in outdoor conditions and the holes are smaller, but strategically located, so that each ball has the ultimate in precision when being struck.
Authentic Bounce Technology: In order to ensure that each bounce of the ball is consistent in outside conditions, Authentic Bounce Technology was developed by Onix. This consistent bounce is delivered due to a highly durable plastic material being used that keeps its shape far longer than most other outdoor pickleball balls on the market today. As it's more durable, this regularity is maintained for longer – meaning balls do not need to be replaced as often.
Apart from those fantastic features, Onix pickleballs are also known for their excellent levels of durability and the balance they have when used on the courts.  This is mainly down to the exceptional welding process that Onix uses when creating their balls. Each half is created separately before being joined using this process which ensures a perfect balance and supreme durability which can withstand plenty of aggressive play on the courts.   As we said, it's a contact sport for equipment and anything which makes the gear last longer has to be a good thing!
Available in either yellow or orange, you will be able to choose the ideal color for your surroundings. Two bright colors will mean that you will never have any trouble spotting the ball in mid-flight. We would ideally like more colors to choose from but Onix is not alone in how they stick to one or two colors. We feel that a wider variety of choice would be great so that even more environments would be able to choose a more suitable ball to use. Black, white, red, are just examples of colors that we would like to see.
Pros
True Flight Technology
Tournament Approved Balls
Highly Durable
Cons
Could do with a few more color choices
  Final Verdict: We have tested a good number of the more popular outdoor pickleball balls and in terms of performance and value we have to say that the best of them is the Onix Pure 2. Sure, all balls will need replacing at some point but from our tests, the Pure 2 can withstand more use before that time comes.
Furthermore, these balls have a higher-than-average bounce height than most and their design means that they fly through the air far more consistently than most. We also like the fact that they are made in two different colors but would perhaps like to see this number increased to a wider selection in the future.
All in all though, if you are looking for a good quality ball that you will be able to trust when it comes to the rough and tumble of outdoor play, the Onix Pure 2 Outdoor Pickleball Balls are definitely among the best that money can buy.
[easyazon_cta align="center" identifier="B01J6OSIPE" key="wide-orange" locale="US" tag="skillspeedpower-20″]
Best Indoor:

 Onix Pure 2 Indoor
[easyazon_image align="center" height="500″ identifier="B01MXPIQ2R" locale="US" src="https://images-na.ssl-images-amazon.com/images/I/4177eMegMaL.jpg" tag="skillspeedpower-20″ width="500″]
So now that you have our opinion on the best outdoor pickleball ball to use, you will now want to see what our opinion is for indoor pickleball balls. Well, this might come as a surprise but we have gone for the indoor version of the Onix Pure 2 as well. They just perform better and are more durable than most of their counterparts.
Are they the same ball? No, you should always use indoor balls and outdoor balls in the environments they are designed for. The indoor pickleball balls by Onix are constructed of a softer plastic and have bigger holes which when combined allows them to better respond to the indoor surfaces and environment that they will be used in.
So why are the Onix Pure 2 Indoor Pickleball balls better than anything else in our opinion? Well, we just like the obvious effort and dedication that has been put into developing a basic sports ball. These are made of plastic after all and it would seem that not much goes into your average ball. However, at Onix, they make use of their own patented technologies to ensure that their balls last longer, are more durable, bounce more consistently and fly through the air better than anything else out there.
The technologies we mentioned with their outdoor balls are back in use here, so you have the true flight and authentic bounce technologies used, albeit with different base specifications and material compositions used. The plastics here are much softer as they are with all indoor balls and that is to allow them to bounce better on indoor surfaces. Additionally, as there is less wind resistance indoors, the holes on the balls are much bigger so that it aids consistency in terms of the flight of the ball.
Another aspect that we like that is also similar to the outdoor ball is the two different colors of yellow and orange that can be chosen. Admittedly we would like there to be a little more choice so that a color can be chosen for any indoor environment but at the same time, offering a choice of two is more than most pickleball manufacturers do.
All in all, the Onix Pure 2 Indoor Pickleball Balls are in our opinion some of the very best out there. We tested most of the big names and while the majority performed well, none could touch the performance, durability and bounce height of these.
Pros
Available in Yellow and Orange
True Flight & Authentic Bounce Technologies
Lasts longer than most balls
Cons
Need more colors to choose from
  Final Verdict: ​Onix are rightly known for being one of the best manufacturers of pickleball balls and once you have tested out either their indoor or outdoor balls you will quickly see why. In terms of the indoor balls, in particular, they have a better-than-average bounce height, are far more durable and have been specifically designed for indoor use. We also feel that they are easier to control on the courts and that their flight through the air is straighter than most other brands.
That said, most pickleball balls will be able to provide you with a good game but if you want the best, then Onix is the brand to go for. You also have to consider the fact that cheaper balls will need replacing sooner, so essentially when you work out long-term costs, there really is not that much in it.
[easyazon_cta align="center" identifier="B01MXPIQ2R" key="wide-orange" locale="US" tag="skillspeedpower-20″]
Recommended Next: Don't miss our guide on pickleball paddles that are worth your attention.
​
Conclusion
People will always regard the pickleball paddle and pickleball shoes as the most important pieces of equipment for the game and while that may be true, it is also extremely important to get hold of the best balls possible. You will easily see the difference between a tournament approved ball and that of a cheaper alternative. The former will last longer, will have a more consistent flight, will bounce more consistently and will generally provide you with a more entertaining game.
It is also important to try and use the right type of ball in the correct environments. Why you could theoretically use an outdoor ball inside and vice versa, they are not ideally suited to the opposite game. Indoor balls outside, in particular, are not going to last long or be very accurate in harsher environments.
As for the Onix Pure 2 pickleball balls, both indoor and outdoor, we just feel that they offer better all-round performance in terms of their price compared to other leading brands. Obvious work has been put into ensuring they are more durable, accurate and stable compared to their competitors and it is this work that has in our opinion, enabled them to become the best in the business.