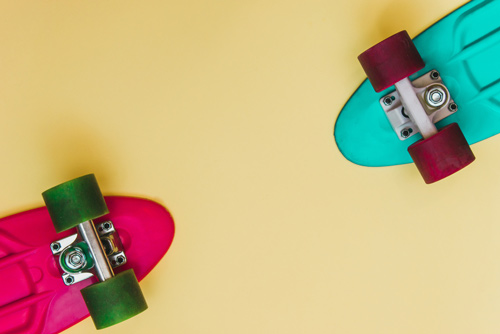 If you've been hearing a lot about penny skateboards recently but aren't too sure whether you should buy one or not, it's time to learn more about these exciting new products!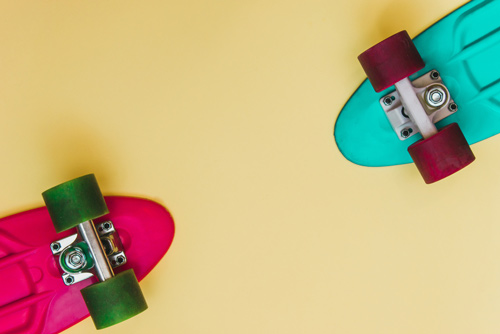 First designed in the 1970s, the penny skateboard has only recently become widespread as young people have started to recognize their usefulness and street appeal.
Usually, they're made out of plastic, but some are made from maple and come at a higher cost. A Penny Board is smaller and lighter than a regular skateboard but also very strong. Penny Boards are designed to withstand a lot of force, so they don't easily break or get damaged.
The Penny Board comes in three deck sizes. The Long Board has a deck size of 36", the Nickel Board measures 27" and the Penny Board measures 22". They come in all kinds of designs and colours and are very popular with young adults and teens who appreciate their portability and compact size as well as their cute and fashionable appeal.
So, how do you choose the right Penny Board for you? Read these top 5 Penny Board reviews and find the best cruiser skateboards for you.
Some of the links below are affiliate links, meaning, at no additional cost to you, we may make a commission if you click through and make a purchase.
The Top Models Compared
Take a look at how the top penny skateboards compare in the table below.
We review each of our recommendations in more detail in the next section.
Model
Details

OUR TOP PICK

Penny Australia Complete Skateboard

– Smooth cruising 59mm, 83A durometer wheels – ABEC-7 stainless steel bearings – Lifetime warranty

[easyazon_cta align="center" identifier="B07FW9X95T" key="small-orange" locale="US" tag="skillspeedpower-20″]

Skatro Mini Cruiser

– Skatro flexy technology- ABEC-7 bearings- 59mm urethane wheels- Includes T-tool

[easyazon_cta align="center" identifier="B01AVCYNWM" key="small-orange" locale="US" tag="skillspeedpower-20″]

Penny Classic Skateboard

– Classic waffle top non-slip deck- Smooth cruising 54mm, 90A durometer wheels- Color-coded Abec 7 stainless steel bearings – Lifetime warranty

[easyazon_cta align="center" identifier="B01FEYWPIQ" key="small-orange" locale="US" tag="skillspeedpower-20″]

Playshion Complete Mini Cruiser

– Sturdy fiberglass compound deck- Soft 59mm wheels

– ABEC-9 bearings

[easyazon_cta align="center" identifier="B01G1P9N3M" key="small-orange" locale="US" tag="skillspeedpower-20″]

Rimable Complete 22" Skateboard

– 3″ wide aluminium trucks- 59mm 78A urethane cored super smooth wheel- ABEC-7 high speed precision stainless steel bearings

[easyazon_cta align="center" identifier="B00NXO1J7S" key="small-orange" locale="US" tag="skillspeedpower-20″]
Our Penny Skateboard Reviews
In this section we take a closer look at the penny boards that we recommend over all others. See why these boards stand out in a crowded marketplace.
Penny Australia Complete Skateboard    
*** Our Top Pick ***
[easyazon_image align="center" height="500″ identifier="B07FW9X95T" locale="US" src="https://images-na.ssl-images-amazon.com/images/I/51gsflPSAqL.jpg" tag="skillspeedpower-20″ width="500″]
Made by the iconic Penny Australia brand, this mini skateboard comes in two sizes. You can opt for the 22" or the 27" deck, both of which come fully assembled and ready to use. The Allen key high-tensile construction makes it very strong while stainless steel bearings add to the quality of this product.
Made out of high quality, heavy-duty plastic, these cruiser boards are incredibly durable and offer impressively smooth cruising thanks to the 59mm 83A durometer wheels. This small skateboard comes protected by a lifetime manufacturer's warranty for your complete peace of mind, and the stylish appearance is only enhanced by cool graphics.
Allowing you to make super-sharp turns thanks to the small surface area, this neat mini cruiser fits easily into your backpack so you can take it anywhere you need to go. Transporting it through a crowded city or on a busy bus won't be a problem while the larger wheels ensure that bumps and cracks on the sidewalk won't be an issue. There are also bushings attached onto the trucks for smoother movement on turns.
You'll enjoy speedy movement with this mini board, and a single push will help you glide the length of the road!  It also comes in at quite an affordable price, so whether you're buying it for your child or for yourself, you can be sure of a reasonable cost. It's also capable of supporting a maximum weight of around 200lbs, so it's suitable for most people to ride.
  Bottom Line: If you're looking for an iconic brand, outstanding construction and great value for money, it's hard to beat the Penny Australia Complete Skateboard.
[easyazon_cta align="center" identifier="B07FW9X95T" key="wide-orange" locale="US" tag="skillspeedpower-20″]
Skatro Mini Cruiser Skateboard
[easyazon_image align="center" height="500″ identifier="B01AVCYNWM" locale="US" src="https://images-na.ssl-images-amazon.com/images/I/41gLE01da3L.jpg" tag="skillspeedpower-20″ width="500″]
The Skatro mini cruiser skateboard promises to be different from other similar models thanks to its proprietary manufacturing process which ensures optimal flex. The manufacturing process uses a special machine to calculate a precise amount of plastic injection for each board and this guarantees optimal stiffness. Rigorous pressure checks are also carried out to ensure that every board can flex to the right amount when weight is applied to the board's centre. This ensures complete smoothness when out on the sidewalk.
The Skatro board also boasts Bearing Steel Ultimate Abec-7 bearings. This is much harder than standard carbon steel and this reduces friction whenever the bearings rotate. Capable of taking more abuse over time, steel bearings will function perfectly for many years to come. The result is a faster speed and a smoother wheel rotation, all of which adds up to a better quality ride.
The Skatro also features 3" lightweight color matched aluminum trucks while its convenient small size and lightweight design makes it perfect for popping into your backpack on the way out the door. You can take it on buses, trains, airplanes and the subway with ease. This model even comes complete with a color matched T-tool which is worth $10 completely free of charge and which lets you adjust the flex to suit your own preferences.
Since Skatro makes all of the parts used in manufacturing their boards themselves, you can be confident that every board will have been assembled to the highest possible standards and with the highest quality components.
There are several colors to choose from, so finding a board that matches your own personal sense of style is easy. Also, as you receive a color matched T-tool and the aluminum trucks are also color matched, you get a stylish and cohesive finish that is sure to attract attention for all the right reasons.
Strong enough to accommodate riders weighing up to 220lbs, this board suits kids and adults alike and since it comes in an array of attractive colors, there's sure to be one that really suits your style.
On the downside, while the flex is the big selling point of this mini board, it's important to note that it has a bit of a learning curve to get to grips with riding it. It feels very different from riding a standard skateboard and younger or inexperienced cruisers may find it a little unnerving at first.
  Bottom Line: On the whole, however, this is a great value board which offers a convenient and stylish cruising experience.
[easyazon_cta align="center" identifier="B01AVCYNWM" key="wide-orange" locale="US" tag="skillspeedpower-20″]
Recommended Reading: Don't forget about our guide to the top Quest longboards!
Penny Classic Skateboard
[easyazon_image align="center" height="500″ identifier="B01FEYWPIQ" locale="US" src="https://images-na.ssl-images-amazon.com/images/I/5127pSY0dSL.jpg" tag="skillspeedpower-20″ width="340″]
An official penny classic board from the original Penny Australia brand, this stylish 27" deck model isn't just good-looking, it offers an incredibly smooth ride. The top deck has a classic waffle design to guard against slippage while the 59mm 83A wheels are just perfect for cruising. It also comes complete with Abec 7 stainless steel bearings which guarantee a fantastic riding experience on any type of surface.
With its lightweight design, it has smooth wheels for optimal speed on sidewalks and roads while its affordable price tag makes it an affordable choice to buy for your kids or for yourself to use to get to work or around campus. The low price doesn't compromise on quality and you'll even be protected by a lifetime manufacturer's warranty to give you complete peace of mind.
The Penny Classic features 3" wide aluminum trucks which aren't painted but instead have been powder coated. This means that they're well protected from rust and weather – ideal when you're out riding in the rain. Also, the color coded truck bolts mean that it's possible to make exciting color combinations for a stylish and aesthetically pleasing look.
While this is an excellent Penny Board for cruising around town, it isn't the right choice for performing tricks. While it can support up to 220lbs maximum weight capacity for riding, it certainly won't hold up to jumps and pops and could easily be broken or damaged. If you're just starting out with skateboarding, however, it's almost impossible to beat the high quality Penny Classic.
  Bottom Line: Overall, if you're looking for a classic lightweight Penny Board for leisure riding or for commuting, this could be the ideal option for you. Offering high quality construction with a smooth ride, it's an affordable way to get around.
[easyazon_cta align="center" identifier="B01FEYWPIQ" key="wide-orange" locale="US" tag="skillspeedpower-20″]
Playshion Complete Mini Cruiser
[easyazon_image align="center" height="500″ identifier="B01G1P9N3M" locale="US" src="https://images-na.ssl-images-amazon.com/images/I/41ikXcSUUyL.jpg" tag="skillspeedpower-20″ width="500″]
With its 22" x 6" deck, the Playshion mini cruiser is made from a strong polypropylene and fiberglass material and boasts an anti-slip pattern on its top for safer riding. Compact and sturdy, it has soft and large wheels with a diameter of 59mm and a width of 45mm for smooth cruising and highly responsive 83A PU bushings for ease of steering and a quieter ride.
The ABEC9 bearings are made from super strong steel for a longer lifespan and greater durability, and since they come ready oiled, you can hop on your board right away for a speedy and smooth cruise. The trucks are adjustable to suit your own riding style, while the anti-wheel bite design means that turning quickly is no problem.
Weighing just 4.6lbs, this lightweight board comes ready assembled and has a maximum weight limit of 220lbs making it suitable for most people to use. Its small size makes it perfect for both children and adults and it's especially suitable for beginners to learn on. As it also comes fully assembled out of the box, you won't waste any time in having to put your board together – you can simply head straight out for your first cruise.
There is an anti-slip pattern etched into the top of this board. That makes it a much safer choice, especially for children or for beginner riders who are just beginning to learn how to balance and how to ride safely without falling off.
  Bottom Line: Designed with only a small amount of flex, this is a very sturdy board with limited bend. This makes it ideal for anyone who is brand new to cruising, but may not be so good for experienced users who like the flex that other boards provide.
[easyazon_cta align="center" identifier="B01G1P9N3M" key="wide-orange" locale="US" tag="skillspeedpower-20″]
Recommended Reading: So which Tony Hawk game was the very best?
Rimable Complete 22" Skateboard
[easyazon_image align="center" height="500″ identifier="B00NXO1J7S" locale="US" src="https://images-na.ssl-images-amazon.com/images/I/51p5GI%2BsCEL.jpg" tag="skillspeedpower-20″ width="500″]
This classic mini cruiser features a stylish pattern for even more visual appeal, and this has led to the Rimable being a desirable fashion accessory. Made from a durable material, it has a solid 3" aluminum truck, PU wheels and smooth bearings for a pleasurable cruise on sidewalks and roads. It also comes in at a surprisingly low price making it a great choice for kids and adults alike.
Perfect for use by both experienced and beginner skaters, the Rimable Complete 22" skateboard has soft Urethane-cored wheels which measure 59mm and which contain ABEC-7 rated high speed bearings. When paired with the 3" aluminum trucks, you'll enjoy much better control and speed.
Assembled with high-quality screws, nuts and bolts, it offers impressively durability and robustness while its plastic deck is flexible and strong enough to accommodate any rider's needs. As an added bonus, this board comes complete with a kick tail, allowing you to perform quicker turns and slides as well as some tricks. It also comes completely assembled ready to use from out of the box, so you won't waste any time in having to put your board together before the first use.
Thanks to its lightweight design and small size, it's comfortable to carry and simple to control. It also has a surprisingly low price bringing it within reach of everyone. It is also available in a choice of stylish colors so you can easily find one that suits your personal tastes.
On the downside, there is a lower weight limit on this board. With a maximum load capacity of 198lbs, this makes it slightly more restrictive in who can use it. It is also a very small board, and this means that it's best suited to smaller, lighter adults and children who are starting out with learning how to use a board. If you're a heavier user, you could find that you end up accidentally breaking the deck of this board so it may not be for you if you're a larger adult.
  Bottom Line: Overall, the Rimable board is a good choice for any lighter skater on a budget or anyone who is buying a board for their child. As an excellent first board they offer a stable and sturdy riding experience for complete beginners.
[easyazon_cta align="center" identifier="B00NXO1J7S" key="wide-orange" locale="US" tag="skillspeedpower-20″]
Getting Your Skates On
Finding the right Penny or Nickel Board for you needn't be a challenge. Although there are lots of different models on the market today, you need to be careful which one you choose. Some are poor quality and won't give you a smooth or comfortable ride.
Some are heavier than others and are difficult to carry around with you wherever you need to go. Some are difficult to control while others lack the speed that you're looking for when cruising.
If you're looking for the right Penny Board for you, our helpful reviews give you all the information that you need to find the right model. You need to choose a board which has a strong and sturdy construction, but yet with sufficient flex to give you the comfortable ride you're looking for. You'll also need to select a board which has smooth Penny Board wheels that can withstand rigorous road conditions and lots of regular use.
Although any of the five boards reviewed here would be a great choice for you, overall, we would recommend the Penny Australia Complete Skateboard for its durable construction, stylish design and outstanding road performance.
Whether you're a beginner or an experienced skater, you'll find this Penny Board smooth, easy to manoeuvre and comfortable to ride. Made from quality materials, you can be confident that when you buy from this iconic brand you're getting one of the best models on the market.
Recommended Reading:  Don't miss our guide to the top skateboard art!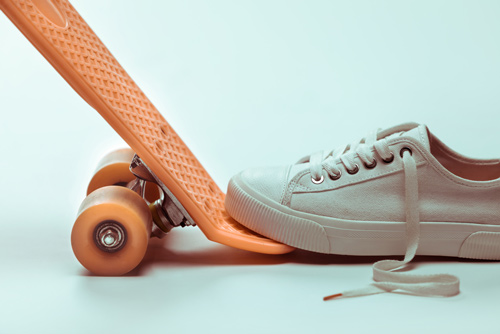 A Buyer's Guide to Penny Boards
There are lots of questions that you're probably asking about Penny Boards. From the obvious "how much are Penny Boards?" to queries about how to ride a Penny Board, there's a lot to address. Here, in our Penny Boards buyer's guide, we look at all of the key issues you need to consider before you buy.
Penny Board Sizes – An Overview
The smallest Penny Boards measure 22" in length. Their small size promises a zippy, fast and smooth ride when you need to get from A to B and with their lightweight design they are easy to fit in a bag or backpack. This size of board is especially good for children to learn on, although an experienced skater can use a Penny Board of this size if they don't want to do tricks.
The 27" board is usually called the Nickel Board. Heavier than the 22" board, it is still quite lightweight and offers a ride that is more similar to that offered by longboards. On the upside though, they have greater portability than a longboard and more stability than a Penny Board. For this reason, they're great for teens and for beginners and are ideal for beginning to learn how to do tricks.
Longboards measure 36" in length and are relatively light but their extra length and supportiveness make them ideal for tricks. Because of their bigger size they aren't ideal for children.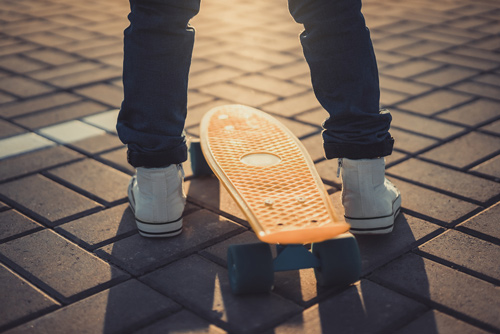 Mini Cruiser Skateboards – The Benefits
Mini cruiser skateboards are perfect for rolling around and riding, but aren't specifically designed to do tricks. Their wheels are quite small at 55mm-56mm in diameter and are soft – ideal for riding longer distances. A mini cruiser offers sufficient stability for a longer ride, and is great for commuters who don't want to park a car or bike.
If you want to learn how to do tricks, a mini cruiser isn't the right choice for you since they aren't designed for aggressive or rough handling but they are small enough to carry anywhere with you. Mini cruisers are also the best choice for complete beginners who have never skated before. They can be used to learn the basics of riding before progressing to a longboard.
Is There A Difference Between A Penny Board And A Mini Cruiser?
Although Penny Boards and mini cruisers are very similar and the terms are often used interchangeably, there are actually a few differences between them. While both are smaller than the standard longboard and have been optimized to ride rather than perform tricks, the main difference lies in the wheels. Mini cruisers tend to have small wheels when compared with Penny Boards.
Penny Boards also come in three distinct sizes whereas mini cruisers have a little more size variety to choose from. Nevertheless, in terms of color and style, both mini cruisers and Penny Boards have a lot to offer. You can choose from a wealth of graphic patterns, colors and textures and both types of board offer a very smooth and pleasurable ride, so it is up to your which one you prefer.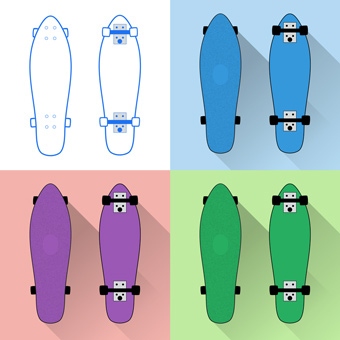 What to Look For When Buying a Penny Board
Although many Penny Boards look similar, they aren't all made to the same high standards. There are a few key differences which you should keep in mind before you buy. Personalizing your cruising experience is pretty important, so finding the right board to meet your needs is vital.
Materials – when you're buying a mini cruiser, you need to consider the material that it's made from. Most are made from plastic, so checking that the plastic construction is strong and flexible is important. If there isn't enough flex it can easily be broken during use.
Weight rating – not every board can support the same amount of weight. While some can hold a maximum load capacity of 220lbs, others have a weight rating of under 200lbs. This could be very important if you're on the upper end of the weight scale. A cheap model will break if you apply too much weight, and sometimes this can happen even if you don't weigh more than the maximum weight rating. If you choose a high quality board, this is less likely to happen.
Wheels – although you might think that a harder wheel will give you the best ride, this isn't necessarily the case. Nevertheless, they will last for longer and will slide more easily. A harder truck bushing won't be able to turn as easily as a softer one, but the platform will feel more stable and this will be a bonus if you are a beginner skater.
Bearings – durable high quality bearings are important when choosing a board. Steel is the best choice since they will not wear down so quickly and will give you more years of use.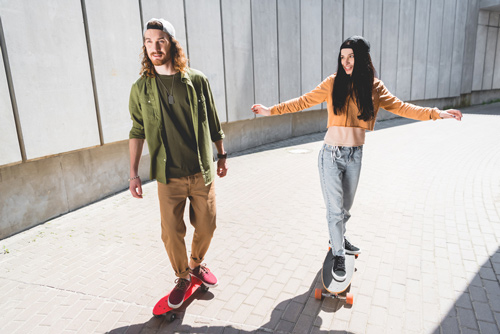 How to Ride a Penny Board
Riding a Penny Board is a little different to riding a longboard, but is still fairly simple for beginners to learn. There are three key elements to bear in mind when learning to ride a mini board: Foot position, balance and braking.
Getting your foot positioning is vital on a Penny Board because there isn't much space to place your feet. If you've already had experience at riding a skateboard you may not find it too difficult, but if you're brand new to skateboarding, you need to stand with one foot before the other on your board.
If your left foot is at the front and your right foot is at the back of the board this is known as a regular stance. If your feet are the other way around it's called the goofy stance. Both will work equally well.
When you push your board, put the front foot over the board's bolts and this will ensure solid positioning when you move with the back foot. Your rear food is for braking and pushing. If you're cruising or resting, you just put it perpendicular to your board.
Balance is a key element when using your Penny Board. Bend your knee putting extra weight on your board and keep your front leg angled in an upside-down L-shape. Start on a flat piece of road or sideward and practice keeping one foot on your board and one foot pushing. Then when you're moving slowly, bring your back foot onto the board, moving your front foot into a horizontal stance if necessary.
When you're ready to stop you need to brake. There are two different techniques to try. Foot braking is the primary method to slow your Penny Board. Use an identical movement to the one you used to push your board i.e. take one foot off the board and drag your foot along the pavement. Keep your foot firmly against the ground so you brake evenly without having to worry about falling off.
Alternatively, you could try jumping off the board instead. Penny Boards are very durable, so you can easily jump off the board and allow it to roll on without you.  The board won't easily be damaged since it's made from very robust plastic materials. If you jump off your board, you need to be careful not to hurt yourself. You should never go too fast on a Penny Board and never try to go too quickly before you're ready.
Turning your Penny Board sounds complicated, but it isn't as hard as you think. There are two options for you to choose from. One is to shift your weight while the other is to use the kicktail at the rear of your board. Shifting your body weight is the best choice for a beginner, but once you're more experienced, using your kicktail is the best way to make a sharp and rapid turn.
If you're struggling to turn your board, or find it isn't turning quickly enough, you could loosen the board's trucks. This will allow faster and more efficient turns.
If you shift your weight to turn your board all you need to do is put extra weight in the direction you want to go in. Turning to the right is achieved by pressing your toes harder towards the board while turning left is accomplished by leaning slightly backwards, without losing your balance.
Kick turns are harder to learn than a turn achieved by shifting your body weight. When you perform a kick turn, you need to put down your rear foot onto the very back of your board close to the lip at the end. Then you press down smoothly on the tail, bringing up the front wheels from the pavement. You can then swivel the board around to face the direction in which you want to go. When first learning how to do a kick turn, do it in a stopped position first. This will be safer and make learning how to do it properly simpler.
How to Care for a Mini Skateboard
If you've never owned a mini skateboard before, you'll need to know how to care for your purchase and how to keep it in top condition. Here are some top tips to help you to keep cruising in style for years to come:
Avoid any aggressive manoeuvres. Jumping and bouncing on your board could break it.
Don't exceed the maximum weight for your board.
Store it safely in a dry indoor space when not in use to avoid your board getting rusted in poor weather.
Clean your board thoroughly after every use. Disassemble its detachable parts and use a scrubber or brush to clean the deck properly with soapy water.
If your board is very dirty, you can soak it in a tub of water so the dirt is released.
Dry your board in natural sunlight before you reassemble the pieces.
Don't store your board under other items as they could break it.
How Much Does a Penny Board Cost?
There is no single answer to the question of how much a standard Penny Board should cost. There are lots of different models on the market so as you might imagine there is a lot of variation in price.
The top brand has to be Penny Australia, the original creator of the Penny Board style of skateboard. Their boards offer excellent quality as well as a lifetime warranty, so you can expect durability, style and performance in one complete package. However, the price tag will be higher.
There are several other high quality brands which come in at lower prices, however it's always wise to avoid a board which is extremely cheap as you usually get what you pay for and a very low cost board is likely to be made from poor quality materials and won't be durable enough to last in the long term.
The good news is that even the best quality Penny Boards are quite affordable and tend to come in at under $100 so they are within reach of both adults and children alike.