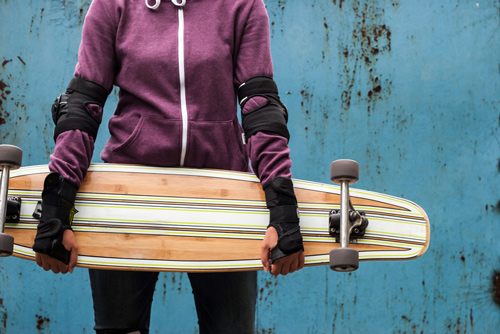 Get ready to experience a new style of skating with Quest Longboards. Go cruising, downhill or even freestyle, the choice is yours!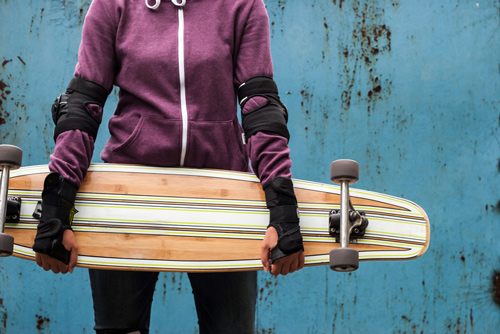 If you're sick of traffic and looking for a new way to get around town and get a bit of exercise at the same time, a longboard might have the answer. If you remember skateboarding as a kid, you've already got the basic skills – just size up a bit, add a bit more speed and you'll find yourself in love with longboarding.
A longboard isn't just for cruising around the hood, it's also great for freestyling, tricks and racing downhill. If you've never experienced the sheer terror – sorry, we meant excitement – of hurtling down a hill while balancing on a board, you've never truly lived.
Longboards give you the chance to be the skateboarder you always wanted to be, carving effortlessly and slipping through the streets without a backward glance. Sound cool? All you need now is a longboard and that's where we step in. We've picked three of the best Quest Longboards for you to check out. So, what are you waiting for – get stuck in!
Some of the links below are affiliate links, meaning, at no additional cost to you, we may make a commission if you click through and make a purchase.
Quest Longboards Reviewed
Find out which Quest boards we recommend over all others. Let's take a look at our favorites.
1. Quest Super Cruiser Longboard Skateboard
[easyazon_image align="center" height="500″ identifier="B008EZNY4W" locale="US" src="https://images-na.ssl-images-amazon.com/images/I/41V2QTKQX4L.jpg" tag="skillspeedpower-20″ width="333″]
If you're thinking of trying out a longboard but don't want to blow tons of dollars just yet, the Quest Super Cruiser is an affordable option to check out. It's not a board that's aimed at pro-skaters but for newbies wanting to get the feel for four wheels – it's an interesting pick.
The clue to the main purpose of this board is in the name – it's ideal for cruising around town. If you want to get from one place to another, enjoy the experience and also get a bit of exercise in the process this board will tick every box. Any board that's 34" or above is a decent size for a cruiser but this whopper comes in a blistering 44". This supersize cruiser offers stability for beginners but if you're planning on stashing it under your desk at work, you won't find it that easy!
This top-mount Quest board isn't built for carving, due to both its eye-popping size and also the lack of flex. However, it provides a good platform which won't speed terrifyingly fast on its 70mm wheels. The trucks will work fine for those just starting out but will be one of the components which will need to be upgraded.
Also known as the Quest Super Cruiser Artisan Bamboo (44 inch), this Super Cruiser offers all of these benefits at a great price, offering an economical way to get your foot – quite literally – on a board. There are others which offer similar dimensions for a price that's not vastly different, such as the Ten Toes Emporium Zed. If you've got a bit spare in your budget, the Globe Kaguya is more of a premium board in the same style.
There are a few grumbles for the Quest Super Cruiser, namely that the wheels feel a bit hard and also have a habit of biting on the smallest amount of street debris. Areas such as the tape and grip tend to wear out quickly on this board, something that was picked up in a number of Quest longboard reviews. However, these items wear on any board and aren't difficult to replace so we're not viewing this as much of a problem.
  Our Final Verdict: The Quest Super Cruiser Longboard Skateboard is a real snip compared to others in the market and with its enormous dimensions, you'll be getting plenty of board for your buck. It's a great starter longboard for newbies and offers a real insight into the world of skating.
[easyazon_cta align="center" identifier="B008EZNY4W" key="wide-orange" locale="US" tag="skillspeedpower-20″]
2. Quest Rorshack Bamboo Longboard Skateboard
[easyazon_image align="center" height="500″ identifier="B008EZNXHA" locale="US" src="https://images-na.ssl-images-amazon.com/images/I/41JYkxpXZrL.jpg" tag="skillspeedpower-20″ width="500″]
The next board on our list is at the opposite end of the spectrum in terms of size at just 34 inches long. A smaller and more affordable option, this longboard is great for tricks and moves rather than just getting around town. Made from bamboo and hardwood maple, it's a combination of street skating and longboard with an impressive kicktail that's very appealing. If you do decide to use it to get from A to B, you'll find this is a board which cruises at high speeds while still feeling secure.
Despite being a less expensive longboard, it's made from high-quality materials. This means it can take all the bumps and scrapes that a newbie will throw its way without falling apart. An integrated kicktail means that the board is simpler to maneuver than others, making for easy riding.
A concave deck is another feature which will help skaters feel secure, providing better traction. Despite the lightweight construction, the materials used are extremely hardwearing and provide the best of both wells. Beneath the board, you'll find four sturdy 65mm PU wheels and tough aluminum trucks.
Even if you're not planning on doing tricks, the kicktail is a useful inclusion as it allows you to pop up and down the curbs with ease. The smaller size means that unlike the Super Cruiser, this board can be easily stored while not in use. It's only marginally bigger than a regular skateboard and very lightweight so it's perfect for moving around campus or just cruising round the neighborhood.
As a great all-rounder which is low on cost and delivers a top performance for intermediate skaters as well as total newbies, it's hard to find many faults. If we're being picky we'd say the wheels were a bit soft and point out the fact that the striking graphics tend to wear away quickly. We'd never be that harsh though…
  Our Final Verdict: The Quest Rorshack Bamboo Longboard Skateboard is a great fusion of cruising and tricks. Suitable for beginners and intermediate skaters alike, there's a lot to love about this smaller longboard and not very much to dislike.
[easyazon_cta align="center" identifier="B008EZNXHA" key="wide-orange" locale="US" tag="skillspeedpower-20″]
Recommended Next: Don't miss our guide to the top penny skateboards next!
3. Quest Zero Dark 40 Downhill Style Drop
[easyazon_image align="center" height="500″ identifier="B01H755BFE" locale="US" src="https://images-na.ssl-images-amazon.com/images/I/313aP4JPdVL.jpg" tag="skillspeedpower-20″ width="333″]
No matter how much you like dropping tricks or powering around the streets, when it comes to sheer, exhilarating pleasure there's nothing that's going to be able to beat a downhill drop. There's nothing complicated about it – it's just about heading downhill at speed and with this longboard Quest have pretty much hit the mark.
One of the first things you'll notice about the Quest Zero Dark is the unique cutout shape – this allows drop-through trucks and a board that rides much closer to the ground. At 40 inches long, this provides great stability as well as maxing out the potential speed – and for those who like downhill, that's what it's all about.
This board isn't a hybrid, instead being made from 7-ply hardwood maple. This comes with reverse kingpin trucks which help out with turning and carving plus ABEC 7 bearings which offer a smooth ride. It is possible to upgrade the bearings but, in all honesty, most riders will be fine with what comes out of the box. Take a trip downhill for the first time and you'll quickly see how easily you can slide into turns and carve angles without feeling unstable.
The wheels are 70mm as well as being tough and hard. This means that you can hurtle downhill with the maximum amount of contact area that handles rough surfaces without sacrificing your speed. Sweet.
The final piece of the puzzle is the deep concave design of the board which coupled with strong grips mean you're less likely to lose your footing. We can't promise you won't face-plant but with this design of longboard, you'll be getting the maximum amount of help to avoid that.
As a longboard that's aimed at more advanced users, it's perhaps not surprising that you'll have to shell out a few dollars more. As you're paying a bit extra you'll want a board that really performs and we've got no reservations there. The only negatives we can mention is that compared to others, the Quest Zero Dark 40 is a bit noisier and despite all the intelligent design features isn't the fastest board on the block.
  Our Final Verdict: This classic 40-inch longboard is ideal for letting rip downhill, and will generate a reasonable amount of speed. Comfortable to ride and offering a secure position, with the Zero Dark 40, Quest are bringing the exhilaration of downhill to a wider audience.
[easyazon_cta align="center" identifier="B01H755BFE" key="wide-orange" locale="US" tag="skillspeedpower-20″]
So, which Quest Longboard wins the battle?
The above three longboards really do bring three of the best from Quest to the table but the question is: which one will you choose?
The problem with comparing these is that they're all aimed at different markets and have a variety of qualities that will appeal.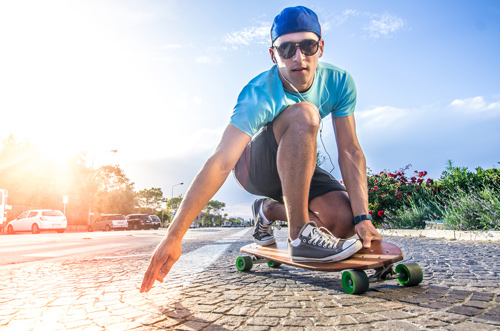 The Quest Rorschack Bamboo Longboard is possibly the best place for a total newbie to start. The board isn't too big, won't feel hard to handle and with its more diminutive size and lightweight construction, it's easier to pick up and carry if it all gets too much. It's simpler to stash on public transport and will fit in more snugly under your desk at work.
However, if you're relatively new to longboarding but looking for more of a challenge, the Super Cruiser might be better. Although offering the same suitability for newbies, the larger board is more of an adventure and takes a bit of practice to get to grips with.
Not many newbies go straight for downhill but once you're ready to taste a bit more speed, the Quest Zero Dark 40 will offer a fun experience and a jolt of pure adrenaline. You'll probably want a bit of time under your belt before you consider this though.
With each of the boards scoring highly in their own individual way, we think it's impossible to choose an overall winner. You realize what this means? You'll just have to buy all three. Sigh. It's a hard life…
Recommended Reading: We take a look at some of the most amazing skateboard art in this article.
Buyers Guide
If you're wondering what a longboard is, let's first step up and explain. Everyone knows what skateboarding is – Quest longboards are similar to Quest skateboards but just with a slightly bigger board. It's not just the size though; longboards have bigger wheels and hardware which is designed for speed. In fact, longboards love speed – the record for a longboard stands at more than 91mph!
You might not be planning on going quite that fast but you'll still have a lot of things to think about when you're buying a longboard. With cruising, downhill, sliding and carving, each board has different features to consider.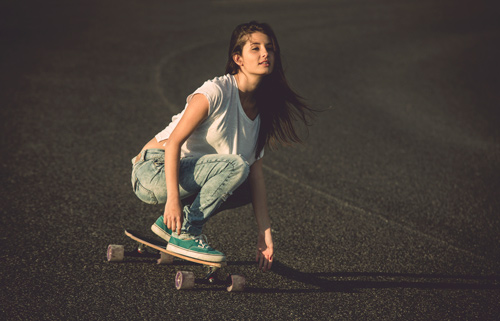 Does size matter? 
Longboards are naturally bigger than skateboards but that doesn't mean that they're all the same. You could find as much as 10 inches between the overall sizes which we think anyone would agree is a pretty big difference!
Smaller boards are easier to carry around and are usually lighter too. If you think you'll going to have to carry your board part of the way, or stash it on public transport or under a desk, smaller might be better on this occasion.
What about the wheels?
Round and with four of them under the board, how much difference can a set of wheels really make? You'd be surprised. The wheels under your board will determine how you roll and whether you're able to pick up lots of speed or carve easily.
Large wheels are great for beginners as they offer more contact area with the ground and they also help you to roll for longer. However, you won't get as much speed with bigger wheels and they can make sharp carving more difficult.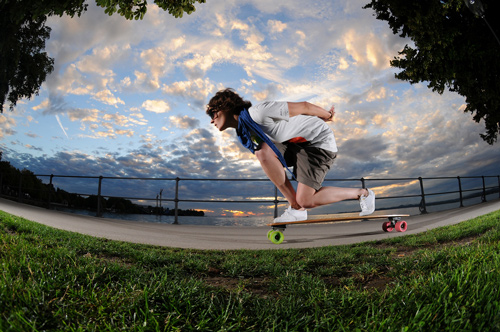 Which deck should I choose?
With a broad range of styles and colors, the deck is the first area that grabs the attention. However, the deck is more than just for show and just like the rest of the longboard, you'll need to think carefully about your choice.
There are two main styles of deck – top-mount and drop-through. Top-mounts tend to be better for carving while drop-through provides excellent stability but these are generalizations. The exact features of the individual board will determine what it's best suited to.
You'll notice some boards have a thinner front and back, often referred to as pintail longboards. These are great for carving as they allow you to carve hard, cutting quickly and turning sharply without the wheels getting in the way.
The grip tape is on top of the deck but a strong grip isn't always better. If you're planning on freestyling and doing tricks, the last thing you want is feet that are firmly stuck to the board! On the other hand, if you're down-hilling or riding fast, a high-grip tape is perfect.
Well, we could talk all day about longboards but that's all for now! We've covered the basics for getting started and hope that we've helped you to decide which board you're going to get.
Thanks for checking out our guide today and we hope to see you again very soon!