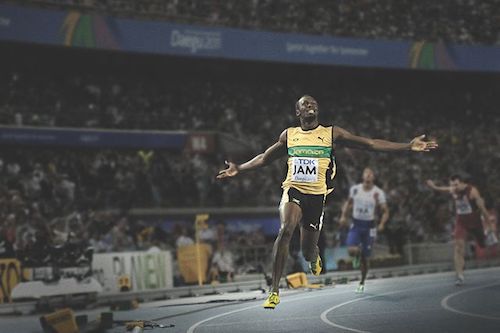 We've put our necks on the line and listed our top 10 sports stars of all time. See if you agree with the Skill Speed Power team in today's controversial post.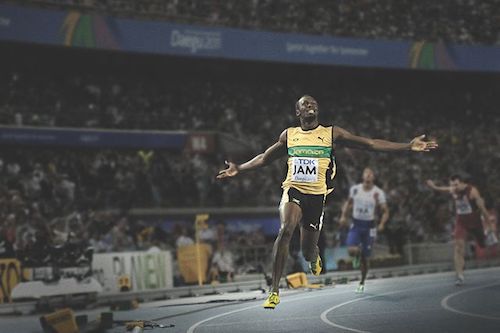 When deciding who the best sports players of all time are, the line is not always clear-cut. Sports differ in so many ways, so it's a topic that is just perfect for debate and discussion.
We don't expect you to agree with us, but we hope you enjoy reading about some of these amazing athletes and their achievements.
However, we'd love to know what you think, and if you agree or disagree with our choices. We've included some famous olympians, team sports stars, and a motor racing driver too.
Let us know what your top 10 is down in the comments section at the bottom of the page!
Anyway, this is the Skill Speed Power top 10 world's greatest athletes of all time….
Some of the links below are affiliate links, meaning, at no additional cost to you, we may make a commission if you click through and make a purchase.
Jackie Joyner-Kersee
Perhaps due to the fact that she garnered her greatest achievements in the 1980s and 1990s, Jackie Joyner-Kersee doesn't have the same level of recognition amongst sports fans as some of the other historic athletes on our list; this is especially true outside of the USA.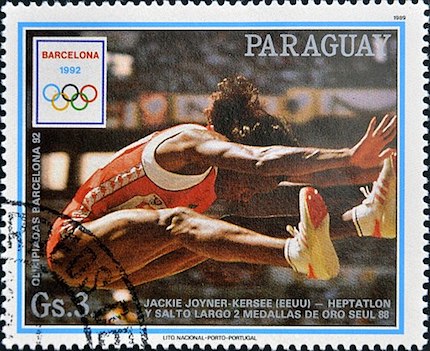 However, she was highly successful in the Seoul Olympic Games, 1988, winning gold in two consecutive events. Four years later in Barcelona, Jackie also went on to win gold in one of the same events.
Her name remains fixed amongst the all-time best results for the heptathlon, with a world record held. She recorded an enormous point haul of 7,291 in the 1988 Seoul Olympic Games.
With all of this in mind, you may be surprised to discover that she previously overcame severe asthma, making her achievements even more incredible and deserving of a spot on the list.
Sir Steve Redgrave
Sir Steve Redgrave is often seen as being Britain's best-performing Olympian in the history of the games. Sir Redgrave not only won a gold medal at his first Olympic Games, but he went on to win another, and another, and this continued until he had won gold in 5 consecutive Olympic Games!
He also happens to be the only competitor ever to have achieved this feat in an endurance sport such as rowing. For 20 years, Sir Redgrave was top of his game, leading to his knighthood and subsequent title.
Sir Redgrave's fame led to him carrying the British flag during the opening ceremony of the Olympic Games on two separate occasions, while he also participated in the Olympic torch relay at the Beijing Olympics. Finally, he was also the ultimate torch bearer during the London Olympics on one occasion.
Martina Navratilova
Despite tennis news regularly being dominated by tales of the Williams sisters these days, there were once other big names in the tennis world making an impact; one of these was Martina Navratilova.
Navratilova's career hit its peak in around 1986 with an incredible play style that pushed opponents to their limit, rushing the opposition and giving them no time to find their rhythm.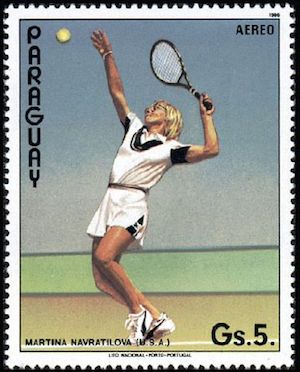 Despite peaking in the mid-80s, she still holds the record of being the only tennis player ever to have held the highest position in both doubles and singles matches for over 200 weeks. She is also the only tennis player to ever have won 8 different tournaments a total of 7 or more times.
Her records don't stop there though. She has both the most singles titles (167) and doubles titles (177) in the modern 'Open Era' of tennis.
Michael Jordan
One of three Michaels on our sporting list, Michael Jordan is often considered to be the greatest basketball player in the history of the sport. Despite the sport being overwhelmingly popular with the United States, Michael Jordan is a household name in countries the world over, having been named the greatest athlete of the 20th century by sports network ESPN in 1999.
https://www.youtube.com/watch?v=rL–gQ2AvJY
Most of Jordan's success was garnered through his time spent playing for the Chicago Bulls, a time during which the team managed to achieve the NBA Championship 6 times. He has also previously been NBA MVP a total of 5 times.
Michael Phelps
Michael Phelps, a retired American competitive swimmer, also happens to be the most successful Olympian in the history of the games; he garnered an incredible 28 medals in his time as an active competitor.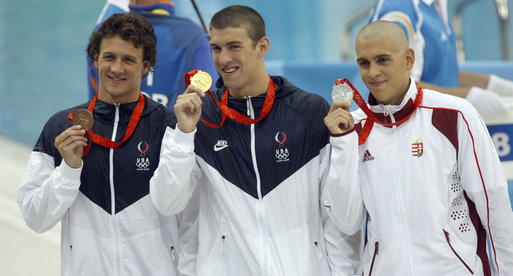 A vast 18 of these Olympic medals were golds, awarded across just three Olympic Games. This is a whopping two times the size of the second-highest medals haul achieved by any another competitor in the games.
There are numerous incredible and little-known facts that make Michael Phelps even more interesting and more of an incredible sportsman. For example, in the year 2000, he became the youngest American male to compete in the Olympics for nearly 70 years. His unique physique also makes him naturally suited to swimming, with a wingspan of 80 inches.
Michale Phelps is without doubt the best athlete of all time in the water. And arguably the greatest olympian of all time too.
Roger Federer
There are many tennis players playing at the top of their game at present, which makes it all the more difficult to stand out in a sea of talent; however, Federer has managed to achieve an incredible level of success despite all the competition he has faced.
Roger is widely referred to as the best tennis player ever, continually achieving top-10 rankings since the year 2002. The array of achievements held by this player include winning 20 Grand Slam singles titles (and making the finals 30 times), and standing at number 1 for an incredible 237 weeks in a row (309 in total). He has recently spent his 700th week inside the top 4, which works out at an amazing 13 years! Now that's consistency!
https://www.youtube.com/watch?v=xeFMrkvPADg
There are some incredible, yet little-known facts about Roger Federer that may well impress you. For example, when he secured the win at the Australian Open in 2017, Roger's total earnings from the sport passed the $100 million mark. He was also awarded the strange title of 'Most Marketable Sports Star' in 2015 by the London School of Marketing. Finally, and perhaps most interestingly, in 2003, Federer was given a cow named Juliette after winning the Wimbledon tennis event. He was later gifted a second cow too.
In our opinion, Federer is definitely the best tennis player ever. He's also the most enjoyable to watch.
Michael Schumacher
Michael Schumacher may not have the same smooth charm as his idols in the sport, but he does have an incredible track record under his belt. Many people don't know that Michael started driving go-karts at an age of just four years old. Two years later, at age 6, he achieved his first club championship win, and his career only continued to grow from there as he grew older.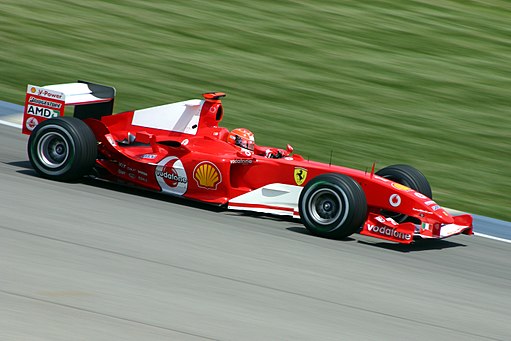 Analytics put him as the highest-performing driver in the history of F1 racing, with a huge 7 World Championship wins and 90 Grand Prix wins across his vast 15-year career. He also managed to attain 5 titles consecutively from the year 2000 to the year 2004. Schumacher was so dominant in his prime that he actually made the whole sport of Formula One a bit boring, as it was so predictable.
Usain Bolt
In the year 2009, during the World Championships, Usain Bolt made history when he cleared the 100-meter track in just 9.58 seconds, easily setting himself a world record. This achievement, which was secured at the Beijing Olympics, was closely followed up by a first-place in the 200 meters and 4×100 meters relay, garnering Usain Bolt 2 more world record titles.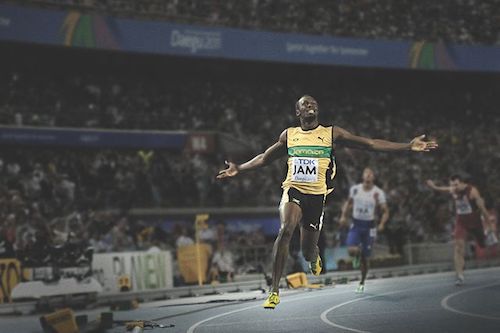 However, Bolt wasn't done there; four years later in London, he managed to win the gold medal in the same 3 titles once more, refreshing his world record in the 4×100 meters relay with an even faster time.
At the time of writing, Usain Bolt is the fastest person ever to have walked the Earth.
Muhammad Ali
Though Muhammad Ali is often purported to be the greatest sports person of all time, he just misses out on the top spot of our list. Still, the man took part in some of the biggest fighting events throughout the history of boxing, including titles such as 'The Fight of the Century' and 'Thrilla in Manila.' There's a reason that when you ask somebody to name a boxer, many people will name Ali. He's probably got the most legendary sports name ever.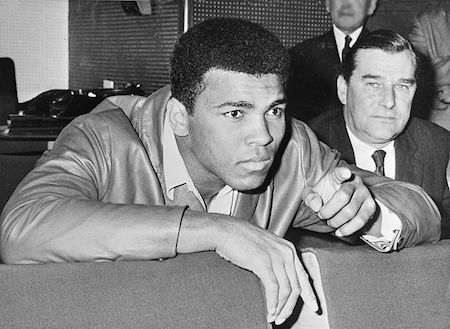 The boxer was famous for more than just his fighting, though. Outside of the ring, he had controversial views on politics and had his heavyweight title taken away from him when he point-blank refused to be drafted into the US Army to fight in Vietnam. Aside from the above, Ali is also well-known for his famous quotes, which include the familiar 'Float like a butterfly, sting like a bee' and countless others.
Besides being one of the greatest sports people ever, Ali will always remain one of the most popular athletes in the world due to his incredibly endearing personality.
Pelé
Sitting at the top spot of our list as the greatest sportsman ever is the man considered to be the greatest football player in the world ever, Pelé.
He's the leading goal scorer of all time for the national team of Brazil, while also holding the world record for scoring the greatest number of career goals during his time on the pitch. Pelé has the incredible record of having scored 1,283 goals in just 1,363 games. Most of his career was spent playing for the club Santos in Brazil, though he also played for New York Cosmos. It was Pelé who helped to bring the sport to the USA and increase its popularity across the country.
Aside from these notable facts about Pelé, there are other lesser-known pieces of information that make this sportsman truly extraordinary. For example, in 1961, the Brazilian government officially named him to be a national treasure so that he couldn't be removed from his country by another team. He even had a specific date named after him for scoring his 1,000th goal on November 19, 1969; from here on in, the date was known as Pelé Day in Santos.
In our opinion, Pelé was the world's greatest athlete. The greatest of all time, the GOAT.
---
We'd love to know what you think of our choices. A big thumbs up or are you shocked at some of our picks? Let us know in the comments section down below.
If you'd like to see more articles like this then make sure to follow us on social media. There's a link to our Facebook page on the right of the page.
Check out out our beginner's guide to soccer.
We've also got an awesome guide to skateboard art here.
Image Sources:
Jackie Joyner-Kersee [Public domain], via Wikimedia Commons
White House photo by Eric Draper – http://www.whitehouse.gov/news/releases/2008/08/images/20080810_d-292-513h.html
By Rick Dikeman [GFDL or CC-BY-SA-3.0], from Wikimedia Commons
By Stephane Kempinaire – http://www.mynewsdesk.com/se/puma-nordic/images/puma-aw14_ff_bolt-325510
M.Ali – Dutch National Archives